When is International Mother Language Day 2020? We are almost sure that you are not able to answer this important question without our prompts and help. That is why we have made a decision to investigate it in details. Are you ready? – We are starting.
History
Discovering the matter concerning the matter, what day National Mother Language Day is, we should inform our readers about the historical background of this special occasion.
This day was established in 1999 by the decision of the General Conference of UNESCO with the aim of promoting the development of language and culture. This establishment wasn't occasional. This day a sad event happened in the distant Bangladesh, where the great amount of young students, who defended their native language, was killed.
This holiday was announced during the General Conference belonged to UNESCO. It happened in November 1999. And since then it has been celebrated every year on February 21. So as you can understand the first celebration was 2000. The organizers aimed the promoting both writing and cultural diversity, as well as multilingualism, of course. After numerous discussions the UN General Assembly supported this decision and contributed much to all languages protection and preservation.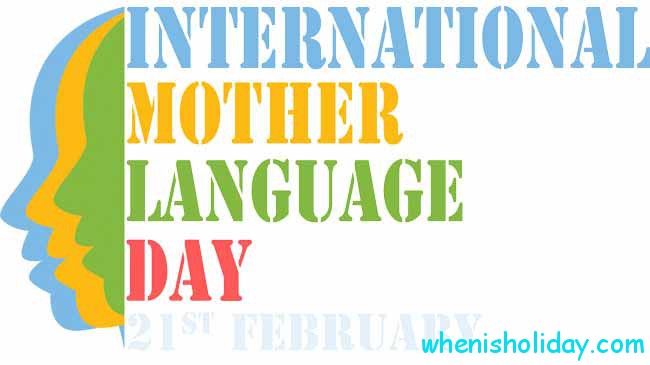 Meaning
What does National Mother Language Day mean? Oh, in this case it's only up to you to decide, we aren't able to do it besides of you.
As you can understand, in the modern world among the contemporary people there're a plenty of those, who consider themselves to be rather cosmopolitan. They don't care about the particular country, definite nation and certain language. So it is not surprising that these men and women are not going to celebrate or to be involved in general.
How to explain this initiative of the UN? From one side, we see the accelerating process of globalization and the eliminating of national borders, that is, the unification of mankind with the transformation into averaged biomass  of a materialistic culture of an English-speaking American pattern with a single world government (the UN promotes it, although it will not be such a government). This process of denationalization is especially evident in recent decades in Europe, whose countries until recently considered themselves to be Christian, and now it was not possible to get Christianity mentioned in the all-European Constitution.
After all, disappearing means carry important facts about the prehistory of human development and its proto-language, the origin, migration and cultural mutual influence of peoples, and they're still poorly researched by linguists (some speeches are not described at all).
Comparative linguistic discoveries in this field, including the study of dead means of communication, can not only serve to clarify the historical processes of the past, but also help in the worldview of the spiritual history of mankind and the place in it of different people.
Definition
Investigating the matter "When is International Mother Language Day 2020?" we want to share as much interesting pieces of information as it is possible.
In general we can't but mention that in correspondence with the experienced specialists, to preserve the disappearing languages of the planet means to protect the cultural heritage. It's no secret that in every country there are several means, one of which is considered to be a state one.
However, there're territories with several state ones. For example, we can't but talk about Switzerland and Canada. There is a great number of more dialects related to this or that area. And they all have a right to exist, because they're spoken by people.
In order to understand cultural traditions in a global context, it's necessary to popularize the linguistic diversity. Let us agree that at the state level the definite status of a language is determined on the basis of its historical development and the territory of its distribution. But even this factor is not always taken into account when it comes to the existence of only one culture.
On the other side, in the framework of the United Nations, since 2009, the Atlas of Endangered Languages of the World Endangered has been being published. UNESCO estimates that half of the 6,900 languages of the world are threatened with extinction, including 136 means of speaking on the territory of the Russian Federation.
The initiators of the establishment of the International Mother Language Day were not only politicians, but also the representatives of small nations, as well as the profound linguists of those times.
In correspondence with their professional opinions, the preservation of all, even of little-spread native spoken words, is important not only from the point of view of preserving the identity of many small nations and respecting their national cultures, but also from a scientific point of view.
Traditions
When is Mother Language Day in 2020, calendar will surely remind you. And it isn't  a problem in fact. The only thing you've to do is to memorize when February 21st comes. The day is fixed, that's why you're able to be involved any moment or year you like or want.
This holiday is believed to be official. Of course, it isn't a bank one, but at the same moment you can always participate in something interesting or amazing. As a rule, various seminars, lectures and meetings with unusual people are organized by students, teachers and representatives of numerous charity organizations.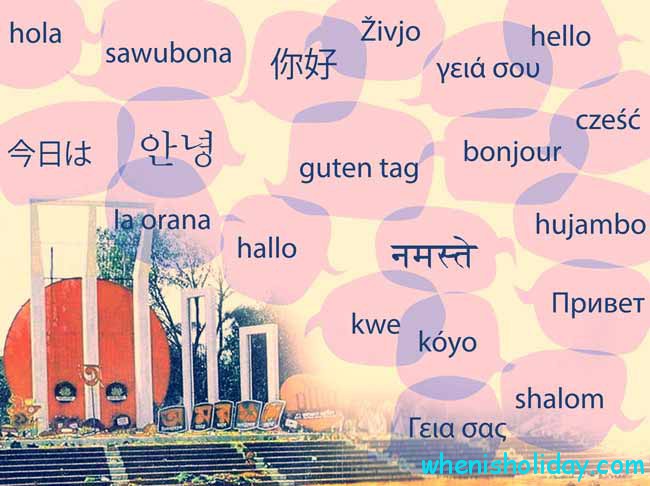 UNESCO has created a portal that allows disadvantaged ethnic minorities to access basic education and elementary knowledge of humanity. You can devote this day to the discovery of this direction.
International Mother Language Day Facts
Investigating the matter "What is the date of World Mother Language Day 2020?" we would like to introduce you a lot of interesting pieces of information devoted to this direction.
According to UNESCO, up to the present moment there are 6,000 living spoken words on the planet. Half of them are on the very edge of complete extinction. Only 4% of the contemporary men and women speak 96% of the languages. At the same time 80% of African dialects do not have written version at all. A dozen languages are dying out every year, and this trend will intensify in the future. This day was established by specialists in order to promote the useful recognition and so requested use of the native means of global communication, especially in as to the national minorities.
For the survival of the language, it's necessary that at least 110,000 people speak it. At all times, they were born, existed, then they died out, sometimes without even leaving a trace. But never before, they did not disappear so quickly. The union of "tribes" in the state was achieved at the expense of languages. For the unity of the country it was necessary to make people consume the same dialect.
With the development of new technologies, it became even more difficult for national minorities to gain recognition of their dialects. After all, the ones, which aren't presented on the Internet, do not exist for the modern world. So, 81% of the pages on the global Internet as well as social networks are in English. Further with a large backlog German and Japanese (each 2%) are following. After that you can meet then French, Spanish and Scandinavian (1% each). All other, taken together, hardly represent 8% of web pages.