When is National Rainbow Bridge Remembrance Day in 2022? Can you answer the question? Are you going to celebrate the holiday this year? Well, the most part of contemporary men and women are going to be rather surprised to find out about the existence of this occasion in the modern calendar. However, it does exist. And today we are going to introduce it in details.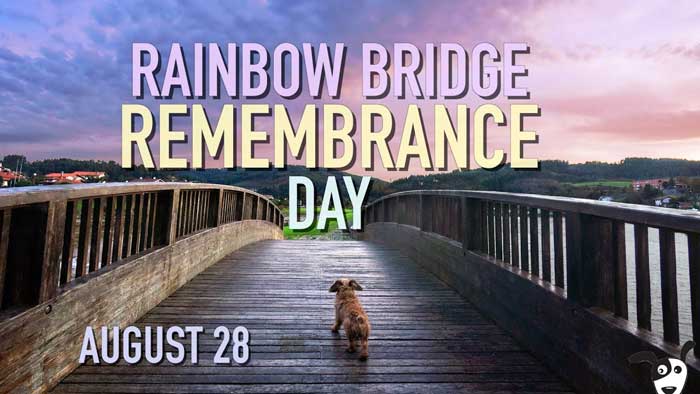 History
Like many other special occasion in the contemporary world the matter what day Rainbow Bridge Remembrance Day in 2022 is, has its historical background. This direction is usually of the greatest demand between our followers. The most part of them would like to know why and when the event was established.
The date for this holiday was not chosen by chance. It was initiated by Deborah Barnes. On August 28, 2013, her beloved cat, Mr. Jazz, died. Shortly after that sad event, the woman published a very emotional book, which quickly gained popularity not only in her native country, but also abroad. In it, she told in detail about her pet, his life and described a great amount of various episodes of their mutual life.
The book became a bestseller and in a short time Deborah received a lot of reviews. In their letters, e-mails and phone calls the numerous readers asked her to talk about her pet over and over again. As a result, the woman realized that this topic was important not only for her personally, but also for many people living in different parts of the world.
And finally, on 28 August 2015, a new commemorative date was started. From now on, every year on August 28, people exchange and remember moments of deceased pets.
Meaning
What does Rainbow Bridge Remembrance Day mean? Frankly speaking, we can't even predict whether you would like to be involved in this holiday celebration. All in all, we can't but mention that Rainbow Bridge is a mythical meeting place in the Afterlife of pets and their owners, which is quite often mentioned among pet lovers in the USA, Great Britain and other countries. The legend is partly based on the mythological concept of a "rainbow bridge" between earth and sky (in particular, the Bivrest bridge in Scandinavian mythology).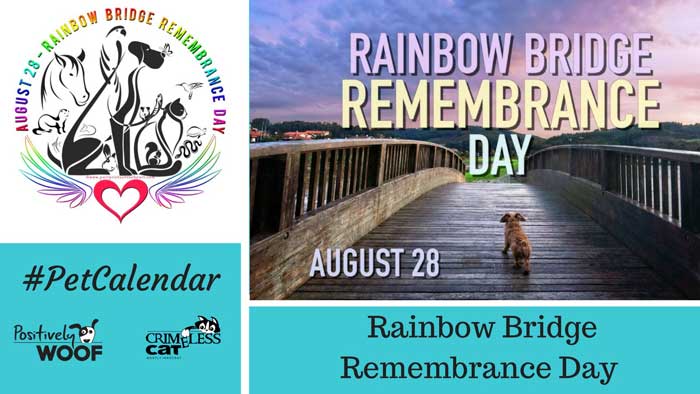 By the way, contrary to popular belief that single people tend to have pets, most cats and dogs live in families of at least three people. A recent survey has found that 26% of the owners of dogs, cats, rats and hamsters are sure that their life is impossible without pets, as these creatures do everything possible in order to share positive emotions. Both men and women adore the joy of having and caring for an animal friend. The beneficial effect on child development is also an important factor: 8% of pet owners cite it as a key argument.
19% insist on the exclusive "social role" of their pets, saving their owners from loneliness. Another 34% found it difficult to give a specific answer to the question, saying that they simply cannot imagine life without an animal in their home.
Definition
As it has been already mentioned above the question "What is the date of Rainbow Bridge Remembrance Day in 2022?" may involve a lot of amazing pieces of information. Today we are going to share some of them with you. And here is a long story, which can help you to understand the tradition.
Following a legend, at the sky edge, there is a particular place, which is called the Rainbow Bridge. Following the numerous stories, fairy tales and films, when a beloved animal dies, it ends up there. All in all, it is a marvelous area. There are endless green meadows and beautiful hills there. Our beloved pet friends can run merrily and play with each other without any problems. They have enough food, drinking water, shadow places and even sunshine, being at the same time in perfect warm and cozy surrounding.
The corner is full of miracles. – All sick and old pet animals turn into young and healthy. They feel like being full of energy as well. The injured pet becomes strong again. The days fly by for them. Of course, they miss their owners, but we think about them and they know it.
On this Bridge, the creatures run merrily and play carelessly, but their owners' last day comes they feel something. All of them suddenly stop where they are and look closely, like trying to see somebody into the far distance. The unusual bright light appears in their eyes, and the whole body starts to tremble with impatience. The creature has to rum away from the fellows. However, as a rule, it is done without any regrets. At this very minute it rises up, floats over the picturesque territories, and the little legs carry it faster to the aim. When the beloved animal notices the owner, they embrace tightly, happily in order not to part once again.
Traditions
When is Rainbow Bridge Remembrance Day in 2022, calendar will surely remind you. The holiday has a fixed date, so it won't be difficult to memorize it. As it has been already mentioned above the occasion is held on August 28th annually.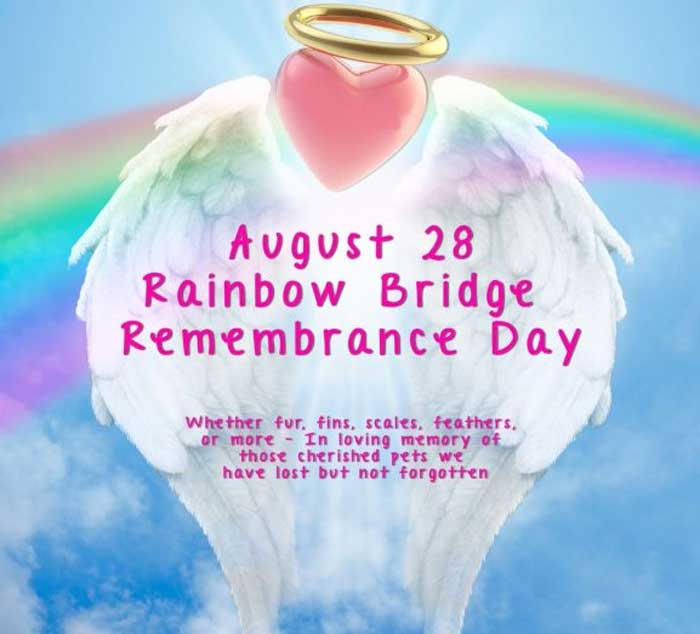 As you perhaps understand there are no any special traditions devoted to this special occasion. And there is no need to expect that local authorities will organize something special because of it this year. However, you are always free to have an event. Of course, this occasion is not for fun and merry activities. However, you can always devote it to the beloved pets, which have passed away. Think about them, watch some mutual pictures and try to remember every detail and each moment that make you both happy.
National Rainbow Bridge Remembrance Day Facts
Well, the answer to the question "What is the date of Rainbow Bridge Remembrance Day in 2022?" has already been given. As you understand the occasions like this one are going to be sad. There is nothing funny and amazing in the case when somebody dies, even under the condition it is a pet.
All in all an animal cemetery is a particular territory, which has been created especially for the burial of domestic pets of various kinds. In the contemporary cities it can be a real problem actually, while in the problem there is no a problem like this. Here there are a lot of places to do it without any services and permissions.
During the history, besides to burying human remains, a lot of human cultures have also regularly buried animal remains. This is often necessary for hygienic reasons when organisms cannot be removed otherwise. For instance, let's take a particular cemetery for the service dogs of the US Marine Corps who died in the battles for the island of Guam in 1944. 25 dogs of the Marine Corps were died in the battles for the island, which were used as sentinels, couriers, mine detectors
However, pets were often solemnly buried. Most people preferred to bury deceased pets in their own properties, mostly in the yard, in a box, in a simple coffin, or in another container.
In the 21st century, beloved creatures can be buried or cremated. The ashes of a cremated animal can be stored in an urn or scattered. It is only up to the owners to decide what to do. But there are some variants to choose.
In general, this topic is not new. The direction is of interest not only to ordinary people who may face such a sad circumstance, but also to numerous writers and film directors. So, in 1983, a novel by Stephen King was published about an ancient cemetery that can revive a dead body. In 1989, directed by Mary Lambert was filmed as a horror movie, and in 1992 the second part was released. In 2019, a new adaptation of the novel was released.
In addition, the classic documentary by Errol Morris "The Gates of Paradise" (1978) is dedicated to the cemeteries for pets.