Everyone ever thought to become a superhero with any superpower and wake up daily to save the world from evil. By virtue of such companies as Marvel and DC for 80 years we can watch bright series and stories about well-known superheroes. And today we gonna speak about probably the most famous and favorite hero ever existed. So, let's find out what and when National Batman Day in 2022 is?
Well, National Batman Day is organized every year on 21st of September and is held to dive into a superheroes world and feel as a part of a team. It should not be forgotten and we must support such events as it helps us and our children to believe in something supernatural.
History
Firstly, in case we want to get instantly what day World Batman Day in 2022 is, we should delve into some descriptions and details.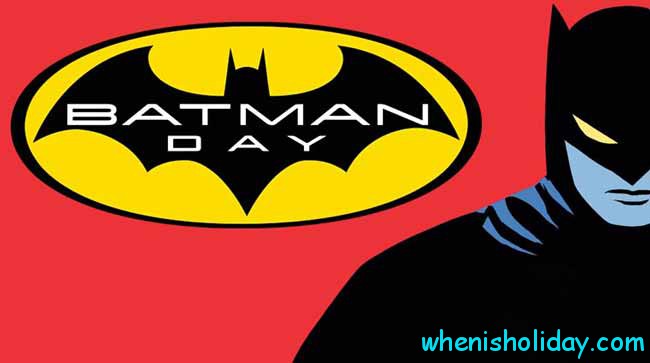 Long ago, in 1939, when the colorful super-raincoats had not yet occupied the pages of all comic books on the continent, and the genre itself did not carry the brand of literature for children, severe adventure heroes were in great demand. Such characters did not possess any superpowers, and with Evil and Injustice, they went to butt in the format of the popular in American culture type "vigilante" — a national Avenger in a mask. The overwhelming majority of such heroes have long ago lost their popularity, but our hero has safely survived all conceivable difficulties of the last century and is still one of the most popular comics heroes. A big role was played in this as the originality of Batman's adversaries, and the fact that he, unlike other knights of the Noir, was inscribed in the big and warm DC universe along with Superman, Wonder Woman, and other super collectives.
However, not always and not everything was smooth in the history of Batman. In the 1950s, under the pressure of censorship bans, comic books became an exclusively children's entertainment in the US, and Batman, publicly accused of propaganda for homosexuality and pedophilia, for many years turned from a nocturnal detective into a clown guardian of the law. This period gave the world such pearls as Zebra-Batman, Rainbow Batman, Bat-Mate or Bet-Hound Ace, about the existence of which the fans would prefer never to recall. The culmination was the television series of the 60's with Adam West in the title role. The series in its time glorified Batman to the whole continent, but now it is very difficult to watch it.
In the 80's, the whole DC universe was rebooted, and our long-suffering character finally returned his canonical stern Gothic-Noir image, which in a couple of years was successfully fixed by Tim Burton's classic films. "Batman" and "Batman Returns" became at that time the most powerful adaptations of Batmaniana – wildly stylish, decadent-gothic, with an unforgettable musical theme by Danny Elfman. In fairness, it should be noted that Burton in these films is more interesting for fans than Batman himself. Tim frankly spat at the title character and shot a movie about the madness of crazy maniacs-aesthetes, such as the Joker and Catwoman, in the snowy and eternally gloomy Gotham.
In the 90s, as part of the campaign to create "cool" versions of their heroes for the younger generation, DC creators broke Bruce's spine and replaced him with a vicious something in a winged battle armor named Azrael. However, soon it was understood that readers may not appreciate such humor, and the status was safely restored. There are also 2 attempts at making a profit on the creation of new series in the history. The first is a cartoon series of 92-year, unsurpassed to this day "epic win" and "must have" superhero genre, in which stories about Batman added even more gothic and good drama. The second phenomenon is films about Batman under the direction of Schumacher. The essence of the drama was that Hollywood bosses, dissatisfied with the criticism and box office of the second Batman, broke off relations with Burton and Keaton and hired a new actor to create a brighter and cheerful Batman for children. Schumacher mastered so excellent that "Batman and Robin" is still considered one of the worst series of DC. Some, however, call it "the most influential" film on comic books in history.
In 2015, the writers of the stories about Bates recognized the obvious: Batman can still become God after defeating Darkseid. That, in principle, is not surprising, since Batman, though a man, but still makes most villains and alliances be always on the alert and even seemingly friendly superheroes. It's safe to say that Batman will cope with any rival, even with Superman.
In 2012, Nolan's third film about Batman came out, which loses to the second film of the trilogy only because of the less charismatic villain and weak moral and more dramatic ending. During the premiere show in the town of Aurora, a man called James Holmes dressed in a Bane suit (consisting, admittedly, only with a gas mask) forced 13 people to convert to Islam. In addition, the second and third film raised at the box office more than a billion dollars, becoming the most profitable franchises.
Meaning
What does National Batman Day mean will surely facilitate the details and traditions of the fest. So, when International Batman Day in 2022 is held, the main target is to gather your friends and dress up as your favorite superhero does, visiting many festivals and concerts which are different in many countries. You are completely free in choosing the suit and after that don't forget about posts on social media with #NationalBatmanDay2022 hash tag, then click on in any social network and share your experience and emotions with others.
Definition
Several minutes ago we had a question about what is the date of National Batman Day 2022? Gathering some information and recalling some notes the calendar has supervised us with the topic and we can turn to another.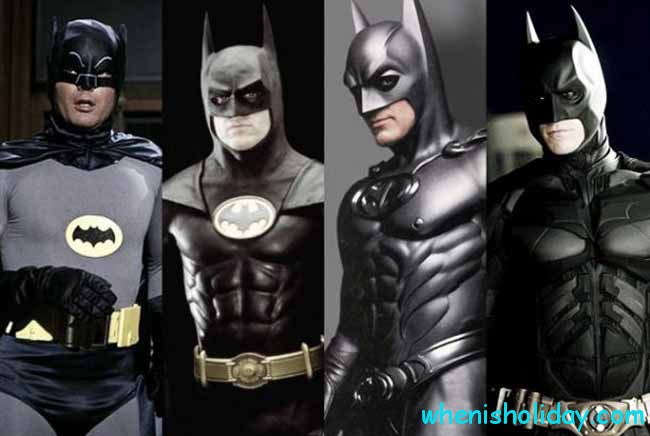 The holiday means you should not forget about supernatural power and heroes which give you inspiration and motivation in any sphere you are in. As it was mentioned above, the day organizes many theme festivals that inspire people and allow them to feel free and powerful for a day. It also gives an opportunity to make new contacts and share emotions and memories.
Traditions
This day, when is International Batman Day 2022, is held all over the world. It's a wonderful occasion to have a great time with relatives and friends and maybe even make this world a little better and kinder…
Dress up in your favorite superhero costume!
That could be the Superheroes Day without a real superheroic ammunition and a developing cloak? Buy for yourself and friends suits of your favorite superheroes and arrange a party in the style of DC or Marvel – fun and great mood are provided!
Watch movies and read comics about superheroes.
National Superheroes Day is a good time to review your favorite movies and reread favorite comic books about superheroes in a friendly company. Why not once again be inspired by their examples and not recharge the energy of great achievements?
Day Facts
Batman is always 34 years old.
According to Michael Keaton, when wearing a Batman costume, he practically did not hear anything. This created considerable inconvenience: not seeing when the partner in the frame finished the line, Keaton could either start talking earlier or had a kind of "slow down". In addition, in a close suit, claustrophobia worsened. But this moment the actor regards positively: "I was going into myself and that's how I saw my character".
To sum up, each story has its secrets as well as national festivals and you are able to reveal them. So, never pass by without taking part in and get a lof memories and emotions.