When is National Rat Day in 2020? In fact, this question sounds really cool. However, to tell you the truth we are almost sure that you have never heard either about its appearance or existence in the modern calendar. We got this situation to be an unfair one, as we find these creatures to be not only funny, but also rather useful in scientific plan. And this is the reason, why we are going to discover the holiday today.
History
Discovering the matter what day World Rat Day in 2020 is, we can't but mention the peculiar features of this holiday. As a rule, the followers of our Internet resource are especially interested in the historical background of the events.
Annually, starting from 2003 on April 4 people belonging to definite societies celebrate a very unusual holiday, which is called World Rat Day. The special occasion was established with a definite and rather noble aim. Initially it was found out by some people in order to draw attention of the surrounding society to these amazing creatures. In addition we can't but mention that the holiday was designed for uniting the lovers of all kind of decorative rats all around the planet.
The idea of the establishment of this Day belongs to the American breeders, who in such an interesting way decided to honor their tailed pets represented by decorative rats. In the course of time this idea was taken up by the rat lovers from other countries. The same date was chosen. Since then it has been celebrated on April 4 due to the fact that initially it was the day, when the famous Ratlist, the oldest online resource dedicated to decorative creatures of this kind, started its work.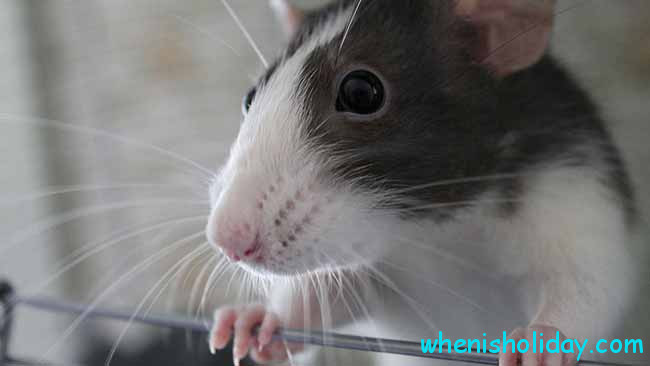 Meaning
What does National Rat Day mean? Well, to tell you the truth we are not able to answer this question instead of you. Why? – You see, we don't know whether you love these funny creatures or not, so it is only up to you to decide.
By the way, some contemporary men and women can find them strange and that is why they are going to be rather surprised that a rat is given so much attention. However, it is worth to recollect that, for example, in the definite societies a whole year is devoted to this small animal. For instance, let's think about the Chinese calendar, the people of that country have the whole Year of the Rat.
And it is not for nothing that this rodent is considered a very clever and dexterous animal with a cheerful disposition and tremendous vitality. Fans of decorative rats consider them not only gentle, sociable, curious and friendly little living beings, but also attractive and literally members of their family.
By the way, scientists often compare an ordinary rat with a man. Why? – The matter is that our genomes are similar to 95%. Can you believe in this? – And they live the same way as we: fight to the last when it comes to survival or preservation of offspring, learn from their own mistakes, even fall in love and see dreams like people.
Recently, scientists have been shown that in addition to squeaking, rats are able to communicate with each other using ultrasonic signals that are not heard by the human ear. It indicates a rich vocabulary of these animals. And rats are able to sympathize.
Definition
Investigating the question "What is the date of National Rat Day in 2020?" we would like to introduce our followers a great amount of various facts and pieces of information.
But it is worth recalling that today we are talking about decorative and domestic rats, which differ from wild only in that they are grown in captivity in the ninth generation (by the way, England is considered the "home" of these domestic animals).
This simultaneously means that such a rat is smart, like a wild creature and affectionate, like a domestic animal, but to a certain extent, of course.
It's no secret that many living beings have been used by doctors as laboratory ones for many centuries, and the talents of laboratory rats always draw the attention of a person. For example, for the first time in the world these creatures took to the arena of the circus in Russia – thanks to the brothers Durov, who they began to demonstrate trained albino rats. And then these animals started to be sold in "bird" markets and pet stores, and today there are clubs of lovers and special rat nurseries all over the world.
Traditions
When is Rat Day in 2020, calendar will surely remind you. This is not a serious problem, of course. The holiday has a fixed date and this simultaneously means that you are free to celebrate on April 4th annually. Of course, this holiday is not an official one that is why you shouldn't expect any events organized on the state level. However, as a rule, it is not a problem for people with good imagination. – You can devote this day to something really amazing, for example, investigating these funny creatures.
By the way, not everybody knows that decorative rats are characterized by a calm character, loyal attitude towards a person. You can even say that they need communication with the owner, being at the same time curious and going to contact quite easily.
Like dogs, they memorize everything around quite easily and recognize the people. By the way, they are also able to respond to the nickname. All in all there are more than forty colors of decorative rats, as well as various types in accordance with their hair and physique: bald, curly, downy, long-haired, with large ears or without any tail at all.
In general home rats are very clean animals. They wash and clean themselves even more often than ordinary cats.
From time to time, the corresponding funds and organizations hold the specialized festivals devoted to these representatives of rodents. All animals presented at the festival all pass veterinary control and are completely safe for humans!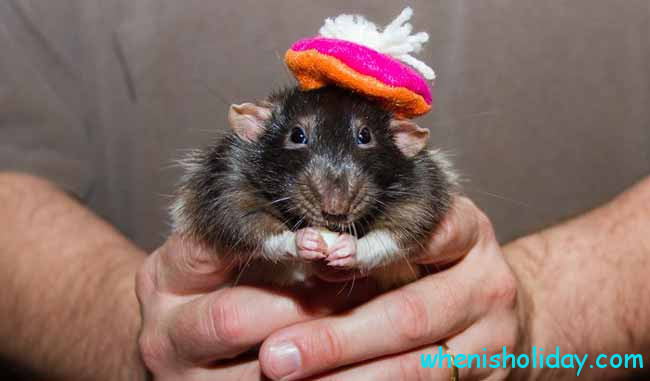 International Rat Day Facts
Investigating the question "What is the date of National Rat Day in 2020?" we would like to demonstrate our followers a great amount of various facts belonging to these amazing rodents.
The American neurobiologists have proved that not only monkeys, but also the other living beings as well are capable to show their high nervous activity, which is usually considered to be a characteristic feature of humans only. After the great amount of various tests it has been proved that ordinary rats can recall past event chain in chronological order.
During the profound study, 13 rats were taken. The specialists trained the creatures to memorize a long list of 12 various smells. During the numerous experiments the rodents were arranged in special cages and treated when they recognized different fragrances, beginning with the second or fourth one.
After special training, the animals were undergone to a series of tests, in everyone of which the amount of odors was changed. In such a simple way the specialists tried to confirm that the living beings remembered the position from the prepared list. It helped to prove that rats were able to reproduce the entire list. On average, 87% of the animals succeeded. As a result it was found out their episodic memory can contain the certain subsequence of information on events.
It is demonstrated that this kind of memory in rodents is characterized by the so-called long-term stability. In accordance with the scientists, this discovery will allow creating genetically modified creatures convenient for important research. The special accent will be done on the samples, suffering from various neurological disorders similar to those the contemporary humans have. For example, Alzheimer's disease needs more than it is possible to do nowadays.