The popularity of such entertainmenthas only recently increased. And this is not surprising, because it involves both an intrigue and a mystery that you want to solve. Such kind of leisure activity is interesting to both an adult and a child. That is of common knowledge, however, are you ready to answer the question "When is National Puzzle Day in 2020?" without our prompts? We are almost sure that you are going to give us a negative reply. So the decision to investigate the matter in details seems to be rather natural.
History
Of course, we know for sure that the question "When is International Puzzle Day 2020?" needs the historical explanations. However, we haven't been able to find any information possible about the establishers of this special occasion as well as the necessity to celebrate it exactly on January 29th.
Puzzles were invented in England in 1761. John Spilsbury, a London merchant of geographic maps, came up with a new study guide, cutting a geographic map into pieces. The man started to paste monochrome  engravings of geographical maps on a luxurious thin panel, performed from the mixture of quality Lebanese cedar and mahogany. The panel was initially cut into small pieces of bizarre shape. Each such part contained a little bit of specialized geographic information. In accordance with inventor, collecting the required elements of various  areas, the student had to study the subject. We can't but mention, despite the relatively high price of about  the monthly wage, earned by the  industrial worker, the novelty had a great success.
For decades puzzles were used only for geographic maps. Then they were used to study other subjects, in particular, puzzles from the chronological table with the dates of the reign of English kings and queens were preserved.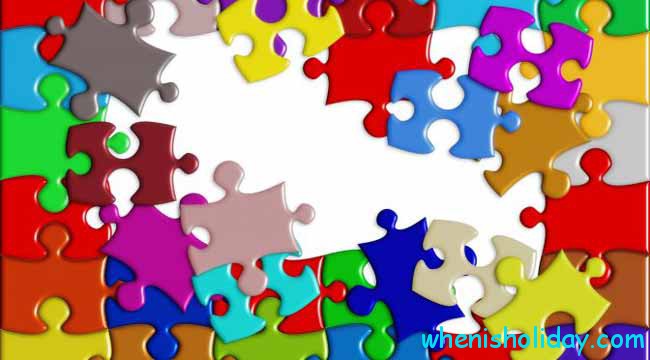 Meaning
What does National Puzzle Day mean? Oh, frankly speaking this question seems to be rather difficult. Well, we can't do it instead of you as we don't know for sure whether it is important for you or not. Among the contemporary society there are a lot of those who don't like this kind of leisure activity.
All in allit is a kind of challenge, when the consumers ask the questions like "Will I be able to solve such a task and finish this picture in a proper way?" It is also a kind of the inner struggle. In addition, we can't but mention that in general puzzles are not only interesting, but also very useful. That's why many adults themselves do not mind spending a quiet evening, collecting a picture, and are happy to purchase the ext one for children.
In accordance with the specialists' points of view, in order not to be disappointed while doing this, you must follow some important rules:
when buying an item, take into account the individual interests of the person who will collect it;
carefully choose the level of difficulty: if it is too simple, you will get bored too quickly bored, and if it is incredibly complex, you may kill the desire to create;
of course, puzzles must be of high quality, so that all the details fit well and densely and do not disintegrate from the slightest movement of the hand.
Development of the ability to make independent decisions and searching for answers without the help of adults. Full freedom in choosing a strategy of behavior when collecting pictures will allow the kid to believe in his/her own strength, independence, which subsequently will help to make the own decisions in different life situations.
Definition
Talking about the matter concerning what day World Puzzle Day in 2020 is, we want to tell the readers something really interesting as to the event.
The puzzle is an entertaining developing and educating game that requires perseverance, accuracy, patience and attentiveness from those people, who are involved into the process. Collecting the set, your child learns to find out the connection between the part and the whole in general. It also develops logical thinking and some very important fine motor skills. In order to build a fairly complex puzzle, you need to have a good command of spatial characteristics and imagination, as well as the ability to turn the sample in your mind, the opportunity to find the right fragment.
The specialists usually talk about the development of fine motor skills and the improvement of movement coordination. As you know the puzzle consists of fairly little items, the need to relate parts of objects, to manage with small picture pieces picture develops the baby's fingers in particular and the hands in general. As a result the movements become accurate and subsequently meaningful.
The kid will learn to see the problem from different sides, to make complex decisions and to think logically. To properly assemble puzzles, several factors must be taken into account at once: the shape of the element, the depicted object, the sequence of assembly of individual parts and the final result of the work. All this will allow the child in the future to choose in advance a strategy for solving a particular problem.
Development of imagination, spatial thinking, fantasy, attention are memory the next benefits of this process. The child needs to be able to imagine figuratively what he/she has to collect, and during the assembly of the sample constantly keep this image in mind.
So, the use of puzzles as an educational toy for a child can be practiced from the very first days under the close attention of parents. If the adults can instill an interest in their kid for this wonderful game, then the boy  or the girl will not only be able to achieve significant progress in their development, but the whole family will have a new interesting game, which can always devote quiet family parties together.
Traditions
When is Puzzle Day in 2020, calendar will inform you. But, frankly speaking, we are not sure that you can spend January 29th in a good way, as there are no official rules for this occasion celebration.
Of course, the best idea will be to choose the new set, to purchase it and to collect the picture at home. It is up to you to decide whether to do it alone or in the company of good friends.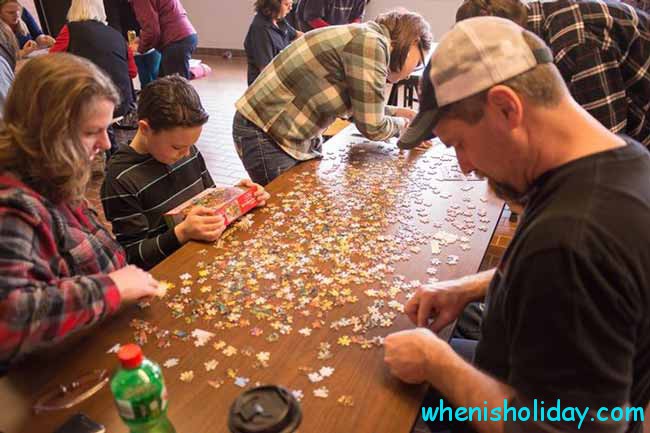 International Puzzle Day Facts
Discovering the matter "What is the date of National Puzzle Day 2020?" we would like to give our readers as much useful information as it is possible. For example, do you know something about the advantages of this kind of leisure activity for our life?
Teenagers are considered to be the people, whom it is rather difficult to please. Parents should remember that crises will be easier if the grown up child has some interesting activity at home. Under these conditions the outdoor life won't be so influential.
Therefore:
puzzles can become a personal hobby;
they distract from the computer;
the collecting picture may turn out to be an occupation for the whole company of friends;
sets help to add achievements to your personal list.
But all this is only in one case, when you have coped to purchase the right puzzles for teenagers.
Ready-made works may decorate the room or be even arranged into a small gallery. The plot, of course, needs to be coordinated with the teenager himself/herself.
There is a common knowledge that all ages are appreciated by puzzles! And it is true. For adults this activity is something like
incredibly powerful anti-stress complex;
real pleasure to create the things by hands. In fact it is not always accessible to workers of mental work at other times;
in accordance with the specialist points of view, puzzles do not allow the brain to "stagnate", and this is more relevant for those who are engaged in manual labor. The development of imagination and perception, logic and attention, the eye and spatial vision – all these things are given to us by ordinary picture collection.
We should also mention that puzzles are useful for one more remarkable benefit: they are able to unite! What could be better than a family evening, when children and parents gather at the same table each with their own personal puzzle! It is at such moments that mutual understanding is born.