Depending on the era, the image of Taras Shevchenko took on different features: he was a rebel who did not mince words about the monarch, a fighter for the fate of the working people, and a prophet whose lines from his works are still relevant to this day.
But no matter how brilliant a person is, he has his virtues and flaws, just like each of us: in Taras Shevchenko, genius was organically combined with naivety, and impulsiveness with high feelings.
1. Taras Shevchenko was born into a family of serfs, but even his grandfather Ivan Andriyovych, the son of a Cossack, remembered the free woman, because he himself participated in the Koliiv region as a half-serf. Grandfather's stories about the Haydamaks, the destruction of Sichi and the glorious Cossack past deeply impressed young Taras.
Thank you, grandfather, for hiding
In the head of a hundred-year-old Cossack, that glory:
I have now told her grandchildren.

"Haydamaki"
2. Tarasov's grandfather and father had a double surname – Shevchenko-Hrushivskyi. Bartholomew Shevchenko (a third cousin of the late poet) recalled that at school Taras was called Hrushevskyi. The poet received the surname Shevchenko from the female linewhen his great-grandfather Andrii Bezridnyi, a native of Cossack Niza, married Efrosinea, the daughter of a local cobbler, in Kyrylivka.
3. Hryhoriy Shevchenko, Taras' father, threshed and transported the lord's wheat to Kyiv, Odesa, etc. He took his son Taras with him on some of these trips. During one of these trips, the boy visited Uman, where, as he knew from his grandfather's stories, the Haydamaks committed a terrible massacre.
And they punished: terrible, terrible
Uman lit up.

"Haydamaki"
4. Taras Shevchenko's "Testament" is well-known since school, but his father also left a significant last will when he ordered not to give Taras anything from his farm:
"… it will either be something very good or a big lazy thing; for him my inheritance will either mean nothing or help nothing".
5. By modern standards, Taras Shevchenko would be considered a man of short stature. According to the "Formular Service List of the Orenburg Line Battalion No. 1", Private Shevchenko's height was 2 arshins and 5 versheks, which is approximately equal to 164 cm. But it should be taken into account that the average height of male Ukrainians over the last century has increased by 11 cm and is now equal to 178.5 cm. Therefore, at the time, Shevchenko had a height that was not very different from the average.
6. Taras paid tribute to his colleagues in poetic skill – he was delighted with Yakov Shchogoliv's poem "In the field", which was set to music and quickly became a popular song.
7. The poet himself loved to sing – he had a sonorous voice with a pleasant timbre (tenor or baritone with high tenor notes). His repertoire mainly consisted of folk songs from the central part of Ukraine, and he accompanied himself on the guitar while singing. His favorite songs were "The snow has turned white", "Oh, don't make noise, puddle! ", "In the field, the grave spoke to the wind", "Hey, who does not know disaster", "Oh, a seven-year-old chumak was walking along the Don", "Oh, there was a chumak (Cossack) from the Don".
8. Although Taras Shevchenko was never picky about his clothes, sometimes he allowed himself to wear original things that made him stand out among others.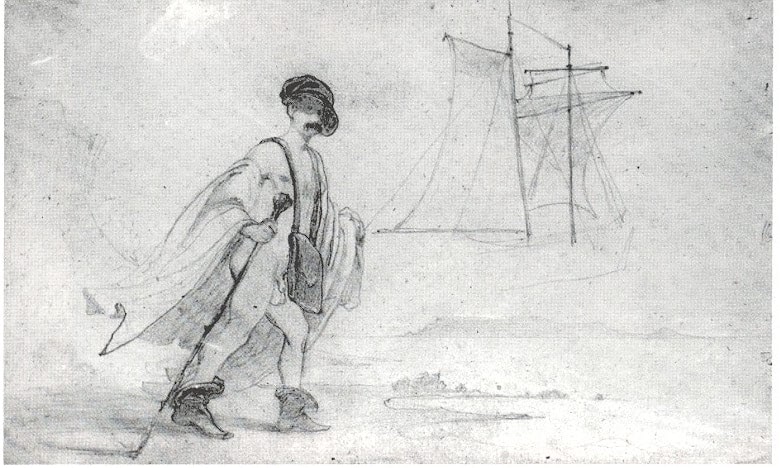 Yes, as a teenager, he sewed himself a confederate hat – an unusual headgear for a Ukrainian village. And at the wedding of Panteleimon Kulish and Oleksandra Bilozerska, the poet performed the duties of the boyar of the bride and was very memorable to the guests with his red woolen scarf, considering that the other participants of the wedding ball were dressed in ballroom costumes.
9. The only clothing that disgusted the poet was a soldier's uniform. In addition to the fact that the soldier's uniform oppressed him, Shevchenko also has an unpleasant history associated with it. When in the barracks he was brought trousers, a uniform and an overcoat made at the expense of the state, he asked the non-commissioned officer how much it cost. Without thinking long, the latter answered "forty rubles". Shevchenko did not suspect anything sinister and immediately gave the money, but at the insistence of one of the officers, it was returned to him.
10. In exile, Shevchenko took part in a descriptive expedition to the Aral Sea (1848-49) as a cartographer, topographer and hydrographer: he made sketches and descriptions of the coast and islands, carried out depth measurements, i.e. prepared materials for creating maps-lotions, which were still used in the 60-70s of the 20th century. Unfortunately, sea voyages undermined Shevchenko's health due to overcrowding, unsanitary conditions on the schooner, water, poor quality food and permanent stay in wet clothes.
"…I would send you a view of the Aral Sea, it's so bad, God forbid! … It seems to me that if Raphael himself were resurrected here, he would die of hunger in a week or hire a Tatar to herd goats. »

From the letter of T. Shevchenko to A. Lyzogub. December 29, 1849. Orenburg.
11. The great Ukrainian had no relations with the possessions of Neptune at all. As early as 1842, during a sea voyage to Sweden, he became seriously ill, but at the same time he received enough food for thought to appreciate how brave and daring the Cossacks who sailed the Black Sea on their seagulls must have been.
They swim to themselves, singing,
The sea hears the wind.
Gamaliya is ahead
Baidak is in charge.

"Gamaliya»
12. "Started with Kobzar — finished with a primer." This saying about Shevchenko's work belongs to Panteleimon Kulish, and the reason for it was the publication in 1861 of "Bukvarya Yuzhnorusskogo" – Taras Hryhorovych's last posthumous book. This book was written in Ukrainian using Russian letters and was intended for teaching literacy in Sunday schools. Shevchenko's primer was the cheapest of such textbooks. At the same time, the entire print run (10,000 copies) was paid for by Shevchenko himself. In order to find the necessary funds, he won a lottery for the "canonical" self-portrait in a fur coat and striped hat known to us since childhood.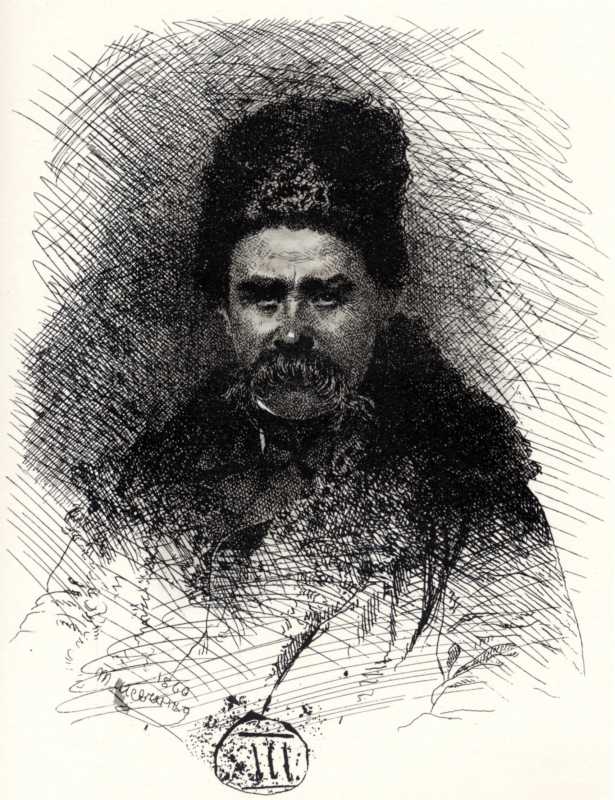 thirteen. Shevchenko as an artist. A total of 835 paintings and drawings of Taras Shevchenko have survived to this day in the originals and partially in engravings on metal and wood. Most of them are kept in the Taras Shevchenko National Museum. In addition, 278 works are known to have been lost or not found. In 1860, Shevchenko received the title of academician in engraving for his high artistic works.
14. Shevchenko's favorite drink was tea, to which he often added rum. Historian Mykola Kostomarov recalled that during long evening conversations, Taras could drink a dozen glasses of such a cocktail, but he saw the poet really drunk only once.
15. Until the last days of his life, Shevchenko did not give up hope of creating a family. But the idyll of a cherry orchard near the house remained only a dream, though on his way of life he met many nice women.
Oksana Kovalenko
Taras' neighbor in Kyrylivka and his childhood love. They divorced in 1829, when the fifteen-year-old Taras was taken to Vilna.
We once grew up together
They loved themselves when they were little.
And mothers looked at us
But they said that once upon a time
Let's marry them. They didn't guess.
Jadviga Husykovska
Young Taras met a seamstress of Polish origin in Vilna. Probably, it was this girl who planted the seeds of free-thinking in Tarasov's soul. "That was the first time I came to the idea of ​​why we, the unfortunate serfs, should not be the same people as the other free classes," he told his teacher Soshenkov.
Amalia Kohlberg
A model, whom Shevchenko met while studying at the Academy of Arts.
Varvara Repnin
Shevchenko was friends with the entire Repnin family, but Princess Varvara was the most loyal to him, who admitted in correspondence that "Shevchenko took a place in my heart." But the poet considered her more like a sister than a beloved girl – that's what they agreed on.
Your good angel overshadowed
Immortal wings
And quiet things
He woke up dreams of the future.

"Trizna»
Anna Zakrevska
The poet had already met the married Hanna at the ball and fondly remembered her a few years after that meeting: "A beautiful young lady and so pleasant that it seems you will forget, but when you see her, you will be drawn to her again."
Never
You didn't seem to me
Such a beautiful young woman
[І] a beautiful one
Just like now in a foreign country,
But also in captivity.

"G. Z.»
Feodosia of Kosice
During visits to his small homeland, Shevchenko met the daughter of the priest of the village of Kyrylivka and was going to marry her. Feodosia reciprocated, but the girl's parents were categorically against marriage, as they thought, with an unequal – a former mercenary. Feodosia remained alone.
Agata Uskova
Platonic love of the artist during exile. Agatha was the wife of the commandant of the Novopetrov fortress. During walks, she was glad to have such an interlocutor as Shevchenko, but he never confessed his feelings to her. After the Uskovs' three-year-old son died unexpectedly, Shevchenko became the architect of the monument at his grave.
Kateryna Piunova
The next beloved girl did not have such high moral qualities as Agata Uskova. In Shevchenko, she loved his connections with the creative intelligentsia the most, hoping to build her career with his help. In response to a request to become his wife, she returned the unread books to him the same day. Finally, the relationship between Shevchenko and Piunova deteriorated after her intrigues, when the poet tried to place his protégé in the Kharkiv Theater. "Crap Mrs. Piunova! It's rubbish!" Shevchenko made a note in his diary.
Liqueur Polusmak
The maid who became the bride of the poet. But the poet's closest circle believed that she was not a match for him because of her rude nature and selfishness, and did everything possible to prevent the matter from reaching the wedding. In the last years of her life, Lykera moved to Kanev and often visited the poet's grave.
16. It is not known for certain how many boys received their name in honor of the great Ukrainian, but toponyms are somewhat easier to count. In Ukraine, there are 25 variations of the names of cities, towns and villages dedicated to Shevchenko: Tarasivka, Shevchenkove, Tarasivtsi, Taraso-Gryhorivka, Kobzar, etc. In total, 352 settlements bear the artist's name.
17. Some cosmic bodies were also named in honor of the poet: in 1975, one of the craters on Mercury was called "Shevchenko", and in 1982 the name "Kobzar" (2427 Kobzar) was approved for an asteroid that moves between the orbits of Mars and Jupiter
18. Shevchenko's song heritage includes hundreds of songs – from romances to rock compositions. And during stormy events, which Ukrainians witnessed or participated in, the usual lines of his poetry acquire a special meaning.
About the author
Other articles
New publications of the author
(ALL ARTICLES)
"Coca-Cola" is a success story, interesting facts

– May 19, 2022

Mr. Feynman is an outstanding physicist and a great joker

– May 11, 2022

Red poppies as a symbol of memory

– May 8, 2022