When is National Kindergarten Day in 2020? We are sure that the most part of our readers will agree that this question sounds really amazing, however, only some of us are ready to give a certain reply. Well, this holiday is not very popular in the modern world, but we find it to be rather amazing and this is the main reason, why we are going to represent it today.
History
The discovering of the matter concerning the direction what day World Kindergarten Day in 2020 is seems impossible without paying the close attention to the backgrounds and reasons of this special occasion appearance in the contemporary calendar. From the very beginning we would like to mention that the date for its celebration was chosen not occasionally. The matter is that on April 21st, but in the distant 1782 the founder of all the modern institutions was born. His name was Friedrich Fröbel and is believed to be the first creator of this kind of institutions.
Initially, the collective educational work with small children was started in Europe. All his life Fröbel dedicated to studying the pedagogy. His ideas were formed under the influence of German philosophy.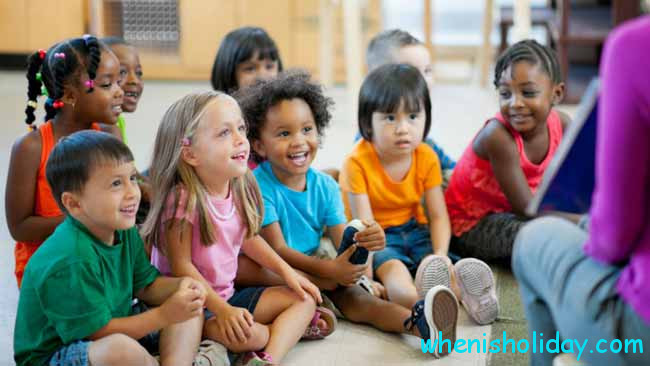 According to Fröbel's principles, a child is naturally endowed with many talents that, with a skillful and competent approach, can and should be developed. Thus, the kid must necessarily receive pre-school training in order to identify his/her exceptional individual natural data and to begin to improve it.
Children, according to Froebel, are God's plants, flowers and the main task of the teacher, as a garden worker, to grow them with special love.
Also, it was Friedrich Fröbel who created the basic principles for the functioning of the institution and developed a methodology for preparing children based on game theory.
The first institution of this kind could be attended even by children of poor families. The kids were fed 3 times a day and occupied with various developmental activities. But the fee set for staying in the garden was not enough to maintain such an institution, Frederick paid all the educators from his own pocket. Two years later, the institution was closed. But rumors of such experiences spread throughout the world, and new institutions specializing in preschool education began to appear in various parts.
Meaning
What does National Kindergarten Day mean? – Frankly speaking, we don't know for sure whether you are interested in such a holiday or not. You see, there are some people who have never attended these institutions in their lives and they do not have any children who are going there now. So it is not a great surprise that they are not going to celebrate.
All in all, in the disputes, about whether children need to visit a institution of this kind or not, are considered to be rather important nowadays. The arguments, provided by both sides are serious. Supporters of the kindergarten, of which are in majority now, assure that without these institutions in modern realities, a kid will grow into a social phobia completely unadapted to society, it will be difficult for him/her at school, he/she will forever miss the period when he/she could learn how to properly communicate with people.
Opponents of institutions compare the institutions with orphanages. These people say, why give birth to the child, if the parents are going to get rid of a kid who needs a family, and not an "incubator" with strangers.
Definition
The matter "When is International Kindergarten Day 2020?" is not as easy as it may seem at the first sight. It needs additional explanations and clarifications.
First of all, initially psychologists recommend not sending a kid to kindergarten before he/she is 3 years old. After this age adaptation in institution is easier. But circumstances are different, as well as the children. Some of them get used faster, others do not get used at all. Fortunately, there are very few boys and girls, who belong to the last category. All the others adapt to the kindergarten to a greater and lesser degree, find friends there, learn to interact with the teacher, and sometimes this place becomes their home and they, having played, do not want to go to their home.
What to do before kindergarten? In accordance with some specialists' points of view, there is a completed list of activities:
to play in the kindergartens;
to go visit, to walk along the corridors and to look into the group premises together;
to talk to the teachers, the nanny, look in the dining room, talk to everyone that will come soon.
To improve self-service skills: eat, wash your hands, dress (choose clothes in the kindergarten without complicated fasteners), put on shoes, ask to go to the toilet …
Traditions
When is Kindergarten Day in 2020, calendar will remind you quite easily. As a rule, for people, who are really going to celebrate this special occasion, there are no problems with memorizing the date. The special occasion has a stable and quite fixed date. It is kept in definite circles on April 21st annually.
We think, our readers understand that there are no any special traditions performed on the state level. Sometime the local administration congratulates the people, who are in this sphere, but, unfortunately, this is everything, in fact.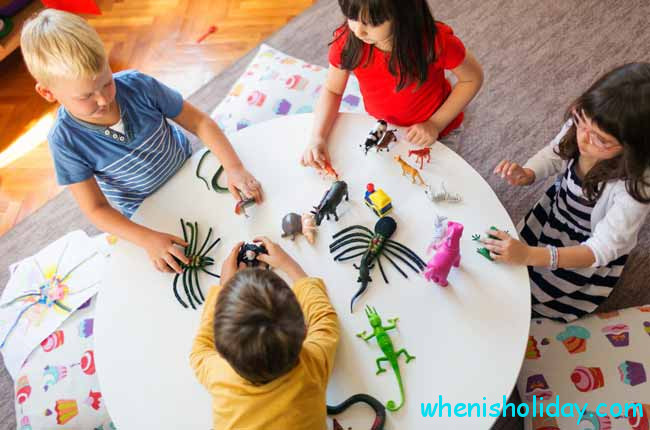 In 2020 this date will be on Sunday, which simultaneous means that it would be impossible to create something amazing in the kindergarten under the condition your son or daughter visits one. However, you are free to do it on Monday and this is going to be a perfect idea. Organize a small holiday, bring tasty things or learn some verses with children.
If it is impossible, devote the day to discovering something new. For example, you can take part in the discussion about the advantages and the disadvantages of the contemporary kindergartens. As a rule, they are organized by local administration in libraries or museums.
One more variant is to find out a set of interesting information devoted to this direction. Fortunately, there is a lot of it in the modern magazines, newspapers or on TV.
International Kindergarten Day Facts
Certainly, such question as "What is the date of National Kindergarten Day in 2020?" is considered to be rather wide and as a result, it needs or even required the demonstration of additional pieces of information.
For example, in accordance with the professional psychologists' points of view, the children, who are younger than 2-3 years old, do not feel the exceptional necessity to communicate with peers, but in this period there is a strong attachment to the mother and close people. Therefore, if an emotionally sensitive child is sent to a nursery before the age of 3 years old, he or she will be acutely worried about the separation from the mother. The kid will show the state by crying and yearning.
According to psychologists who have studied this problem in details, the child should be sent to a children's institution in different age. The optimal variant is 3 years old for girls and 3.5 years old for boys.
As a rule, the process of choosing a proper kindergarten for the child turns out to be a real problem. The parents have to take into account the significant amount of various details. First of all, they need to look not at the external design of the building and modern equipment of every premise, but the inner atmosphere is much more important. The psychologists are sure that a good kindergarten has to be a very noisy place. If for half an hour there are no any noises or laughter inside,  it is recommended to look for another place for the child.