When is National Cuban Sandwich Day in 2022? Can you answer this question? Well, we are almost sure that you are not ready to do it. Unfortunately, this special occasion doesn't belong to the list of the most popular ones. People don't usually know about its existence in the calendar and as a result don't celebrate it. We find this situation to be an unfair one, so today we are going to represent this event to our followers.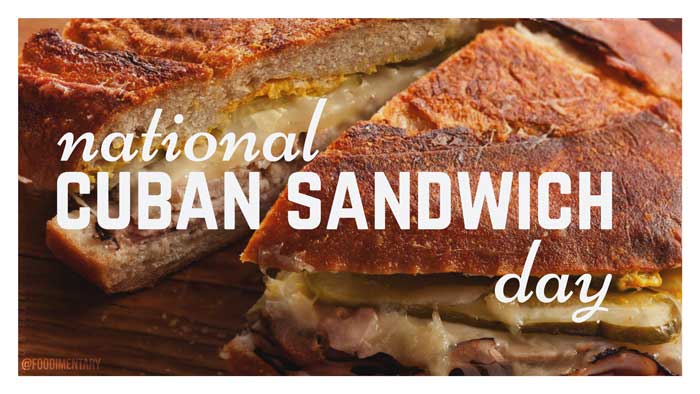 History
Talking about the matter what day Cuban Sandwich Day in 2022 is, we would like to mention the historical background of the event. As a rule, this direction is of the greatest demand among our followers. People want to know the names of the establishers as well as the reasons of celebrating a holiday on a particular day of the year.
Frankly speaking, now nobody can tell you about the origin of this kind of snack. Also nowadays it is really difficult or even almost impossible to determine the names of its inventors. Following some widespread points of view, it happened at about the second half of the 19th century. Initially these sandwiches were a popular and quite typical meal among people, who were working in the large cities, mostly in Cuban sugar and tobacco factories.
Afterwards together with the movement of this category to Florida, such snacks became more common there. In the 1900s, they could be ordered in almost every cafes in Ybor City and West Tampa. By the way, here we can't but mention that a 1934 newspaper article mentions them as a complete dish consisting of special bread, some ham, a few pickles, a bit of lean pork, some salami, tasty Swiss cheese, and, of course, mustard.
The cookbook of 1961 also mentioned these components. At approximately the same period, the snacks were becoming a typical dish in cafes and restaurants in Miami. Why? The explanation is quite simple in fact. On those territories there were many Cuban expats. It means that those men and women brought a bit of their culture as well as their culinary preferences with them.
Currently, there are various kinds of these snacks in the communities living in the USA, Puerto Rico and all around the planet. Following the historians, the holiday appeared occasionally. At the very beginning it was just a marketing decision, which unexpectedly became very popular.
Meaning
What does Cuban Sandwich Day mean? Well, we are not sure that we can answer this question instead of you. In the modern world all people are free to choose which holidays to celebrate.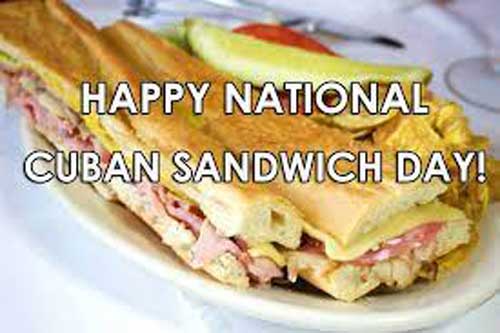 There is some controversy over the recipe for the "right" Cuban sandwich. Following the most typical rule, it should be based on a 20-30 cm long piece of Cuban bread, the crust of which is lightly oiled and cut lengthwise into two halves and covered with ordinary mustard, after which it is necessary to put some grilled pork, a bit of ham, some Swiss cheese and thinly sliced pickles. Everything is placed in layers.
However, the manner of this snack preparation mostly depends on the region. For example, in Tampa, it is also customary to add salami. The historians think that perhaps this tradition was added by Italian immigrants. At the same time salami is not added in South Florida. Less traditional options might include mayonnaise, lettuce, and tomatoes. Once assembled, the sandwich is placed in a special press, the so-called. "Iron" (plancha), where it is lightly toasted until the crust is crispy and the cheese is melted. It is usually cut in half diagonally before serving.
Definition
Investigating the matter "When is International Cuban Sandwich Day 2022?" we found a lot of amazing pieces of information. Today we want to share some to them. For example, do you know that the sandwich we are talking about is a typical representative of Cuban cuisine?
All in all, Cuban cuisine is considered to be a spicy mixture of gastronomic delights of several nationalities. It has already absorbed the culinary elements of African, Spanish and Creole recipes.
The basic principles of this direction are simple and nutritious products, as well as a fast manner of preparation. Culinary festivals are held in different parts of the island every year. On them you can learn recipes for cooking local dishes from professional chefs, as well as see master classes on Cuban "shamanism" over meat, vegetables and fruits.
Cuban food is simple and affordable to prepare at home. There are no complicated, pretentious culinary masterpieces in it. People mainly use meat, seafood, rice, beans, vegetables, local fruits. They prepare meals in coconut oil or coconut milk.
Sauces in different variations add spice to Cuban dishes, while sauces can also be prepared from fruits. Salt is rarely added to dishes. Cuba, like other countries, has culinary preferences in different regions. For example, coconut and chocolate are popular in the central and western regions of Cuba.
Spicy, savory dishes are often found in the culinary delights of the eastern territories of the island.
Traditions
When is Cuban Sandwich Day in 2022, calendar will remind you without any difficulties. As a rule, there are no problems with memorizing it. The special occasion has a fixed date and is kept on August 23rd annually.
As you perhaps understand there is no need to expect that the local authorities would organize something devoted to this matter. Frankly speaking, the most part of them has never heard about its existence in the calendar. That is why they don't usually celebrate or create something special.
What about organizing a picnic in the open air? You see, August 23rd is a perfect time for spending it together outside in a family or friendly circle. By the way, you can take not only sandwiches, but something else as well. As a rule, people give preference to vegetables, fruits, desserts and drinks, both hot and cold.
National Cuban Sandwich Day Facts
The question "What is the date of Cuban Sandwich Day n 2022?" is not as easy as it may seem at the first sight. It involves a lot of peculiar features and amazing details. For example, can you prepare a typical Cuban sandwich at home? If your answer is negative we will give you some recommendations. Are you ready for some new experience?
Wash the cilantro sprigs well, separate from the stems and chop finely. Crush two cloves of garlic with a knife. Put 500 g of pork in a bowl and add cilantro and garlic. Wash the orange well, cut in half and squeeze the orange juice into a bowl with the meat.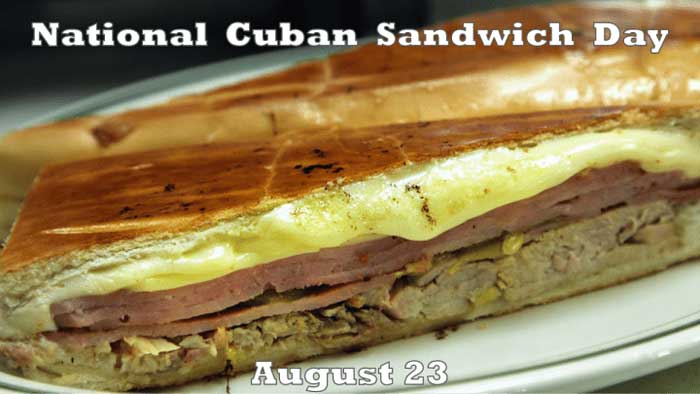 Marinate the meat in herbs and orange juice. Put in the marinade and the orange with peel, salt and pepper to taste. Add two tablespoons of vegetable oil. Share the marinade well over the pork with massaging movements. Leave to marinate overnight.
After that, arrange the marinated pork on a sheet of foil together with the marinade. Wrap the meat tightly in foil and bake on the grill, grill or oven for 60 minutes. Cut the finished pork into thin slices about 0.4 mm thick. Brown the slices of pork on the grill pan for literally a few minutes on both sides. You will get appetizing strips on the meat. Cut the ciabatta in half lengthwise. Set the top aside for now.
Place pieces of pork on the bottom of the ciabatta. Place slices of hard cheese on the pork. You can teach a little overlap. Arrange four slices of ham or brisket on top. Cut three pickles into slices lengthwise. And lay a layer of pickles on top of the ham. Grease the top of the ciabatta with two tablespoons of sweet mustard. Cover the sandwich with the top bun and press a little. Bake the formed sandwich on the grill for one minute on each side on the grill or in the oven for three minutes at a temperature of 200 degrees.