When is National Escargot Day in 2022? Can you answer this question immediately? Perhaps, only the people, who are living in France, are ready to reply it without any hesitations. All in all France is a country of real gourmets, who adore unusual products beginning from frogs and ending with snails. Sometimes it seems like these people are able to prepare a rather delicious dish really quickly. And as a rule, then the recipe becomes in the best world restaurants. But let's discover some rather interesting details.
History
Filvius Girpinius – Roman, who lived in approx. 50 BC, was the very first known person, who was breeding the snails. He fed them with milk and flour, diluted by the wine must. Marcus Gavius Apikius, the author of antique cookbooks, recommended to soak the snails in milk for some days and then to stew them. The Romans ate snails for one special purpose: they wanted to improve the potency. Archaeological researches, such as in the park of Carnuntum, also confirmed that the Romans were very fond of this dish. By the way the Romans are very fond of them even today. But in this case they are prepared quite differently. First of all you should take them from the shell, then cook in olive oil with pepper and spices. In Piemonte, in Cherasco there is the International Institute for snails breeding, which is called Istituto Internazionale di Elicicoltura.

In the Middle Ages escargots were appreciated entirely for other qualities. According to the Bible, snails are neither meat, nor fish. And this means they can be eaten even during Lent. Monks fed in special monastery "snail gardens", and after that they experimented with different plants and herbs to give them a different taste. Nowadays in the south of Germany, in many Catholic towns, you can discover a tradition to eat the snails on Ash Wednesday, which is believed to be the last day before the Catholic Lent. And these days in France, except snails, the local as well as numerous guests also eat frog legs. Like oysters, snails were traditional and affordable food to the poor inhabitants, and their gathering was not forbidden. It is interesting to mention that when Napoleon's army was advancing on Russia, the soldiers carried the barrels of snails with them. To put this information in modern terms: it was canned natural protein.
People began to eat them in ancient times, and the product was considered to be a food for the poor and not a delicacy for wealthy men and women. Nowadays a large number of popular restaurants offer their customers grape snail dishes. You can also buy frozen shellfish in the shop.
The snail breeding center was not only in France, but also the Swabian Alb (foothills of the Alps). Those escargots were called the "Swabian oysters" and cultivated about 500 tons per year – about 15 million units. The most famous German dish is, of course, Baden soup with snail. And the Germans also like boiling snails and then marinate them in wine vinegar, vegetable oil with salt and pepper.
This type of food was delivered via Ulm into the empire capitals: to Vienna and Budapest. It was Vienna, which became the well-known center of the snail culinary fashion. That is why it is not a surprise that many contemporary Austrians know the answer to the question "What is the date of National Escargot Day 2022?" Even in those times Vienna had a snail market.
In the XIX century in Europe, as once in ancient Rome, the escargots were considered to be an aphrodisiac and they were again in popular. This fashion lasted until about 60 years of the twentieth century, but then began to decline.
Meaning
What does Escargot Day mean? –  In France when is Escargot Day in 2022, calendar explains you without any problems.
We can tell you even more, May 1 is considered to be a beloved national holiday in this part of the world. The date is always fixed and people never work there. It is a high time to organize a festival, a huge family meal or a terrific party. And that special day the real lovers visit a small town of Kluis located in the central France in order to take an active part in bright Lumas carnival. Nowadays only 2000 people constantly live in Kluise. But during the annual festival they have to accommodate and to entertain a great amount of guests. This is a really terrific event for everybody.
Definition
However, in a French restaurant menu, you do not read "snails". There will be written something like "escargot a la…" And frankly speaking, this "a la" usually gives the special taste. In that country not even the children know what day National Escargot Day in 2022 is, but everybody understands that simply boiled in water they are tasteless. Various sauces and spices turn them into the delicacy, a portion of which costs in the luxurious restaurants tens of dollars.
But in early August, exactly from August 3 to August 5 we can get another answer to the question "When is Escargot Day 2022?" The event takes place not far from Lyon, in the town of Digoin. Noisy celebrations dedicated to these creatures are organized annually. On this day, guests of the festival are not allowed to get bored. – Rides, merry dancing, loud singing and sport competitions, you can choose whatever you like. And we shouldn't forget about the most important food: at least one hundred thousand snails should be eaten. During the 3 days thousands of citizens gather in the park to enjoy all sorts of unusual dishes.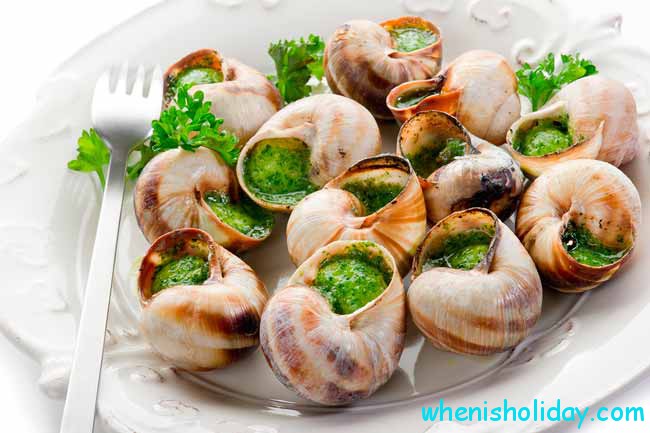 Tradition
Moreover, we can't but mention that the French carefully honor their traditions. They usually organize different fairs and adore all kinds of festivals, devoting them to their sophisticated national cuisine and wine. So, it is not a surprise that they have taken an escargot as a part of their cuisine.
In cooking grape snails or escargots is a real delicacy, especially the French ones. Many people even can't imagine that they are eating snails. Escargot is large enough shellfish, life cycle of which can go up to 20 years.  Despite of their name of grape snails, they can be found, not only in the vineyards but in the forests near water bodies.
Escargot Day Facts
By the way, according to the specialists' point of view, it is quite possible, that a certain gallantry and passion of contemporary French men are associated with the active escargot eating. According to serious scientific researches, it's considered to be an aphrodisiac, which is food, stimulating sexual abilities and opportunities.
Central and South-Eastern Europe is a native area for these creatures. Even our ancestors used escargots as accessible and useful food. But this creature requires a particularly reverent attitude. They can be either grown on the special farms or gathered in forests and bushes.
You see, at least a half of million snails and more than ten thousand liters of the wine looks like very impressive statistics for one festive gastronomic day. We should also mention that escargots are prepared in a plenty of various ways, but always according to the old French recipes. The delicious dish is served with different sauces or without them. In honor of this event you can even take part in a festive procession headed by the huge King Ulithi. Every year the carnival theme is chosen in advance and the costumes are created. The townspeople are free to create any festive program, and, of course, they have as many snails as it is possible. The same thing concerns wine.