Do you like cakes? Do you let yourself eat them from time to time? So, you should give yourself a chance to try a dessert on certain dates. Hundreds of sweet desserts give a huge possibility to everyone who adores sweets and cakes. Every person can find a holiday when the concrete dessert is eaten everywhere. One of the most popular desserts throughout the world is a chiffon cake. One of the most favorite flavors is lemon. Observe a special occasion when restaurants propose their best cakes to their clients. When is National Lemon Chiffon Cake Day in 2020?
History
This kind of bakery isn't very old. It was created by a man who initially was an insurance salesman and later decided to become a caterer. He was Harry Baker from California. The man made his cake in 1927. Besides, the first 20 years nobody knew how to make that dessert. He kept the recipe in a secret. Later it was sold to General Mills and spread through the market.
In 1948 the dessert got its name due to the pamphlet published by B.Crocker. It became very popular in the 40s and 50s of the 20th century. Cake-bakers propose many variants of this dessert. They use lots of additional ingredients for a new taste and color. They add chocolate, lemons, different kinds of berries, walnuts and maple syrup. One of the most interesting and refreshing variants is baked with lemons.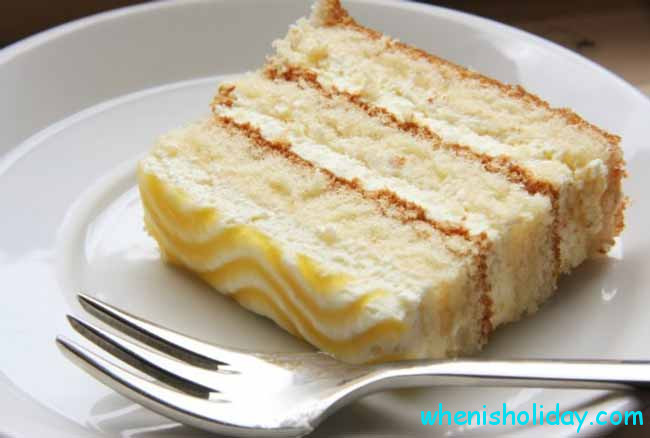 The dessert got a title "a really new cake for the last hundred years". It greatly differed from usual cakes. It had got a lighter texture than others. Bakers started to separate yolks from egg whites. The new kind was recognized healthier than other desserts due to the adding of vegetable oil.
The origin of the holiday which is devoted to this dessert is unknown. It is celebrated in the USA. The event is supported by many people who make posts in Twitter or Facebook. If a person wants to join the observance, he or she can get the information what day World Lemon Chiffon Cake Day is in the internet. The event is celebrated on March, 29.
Meaning
What does National Lemon Chiffon Cake Day mean? The event isn't recognized as a serious governmental and national observance. People don't have an obligatory day-off on the date. They don't have to follow it in the office. Educational establishments don't provide special lessons and lectures to give their students full information about its history and traditions.
Nevertheless, the event is very popular among chefs and ordinary people. The occasion is a great chance to spend the time with a family or friends. This variant isn't very difficult to make, but the taste is really splendid.
Relatives and friends can spend the whole day together making cakes and then having tea or coffee with them. Besides, the observance can give a great possibility to people who want to show their culinary talents. They can not only make a dessert but also decorate it in a specific way. Lots of various internet resources propose their own variants of decorations and toppings. Beginners have a chance to become very popular due to their tasty masterpieces.
The event has been internationally accepted as a culinary holiday. It is a chance to take part in a competition of making and eating chiffon cakes. The information can be found in the internet on culinary sites. Cafes and restaurants also provide such meetings.
When is International Lemon Chiffon Cake Day 2020? It's on March, 29.
Definition
The event has got a concrete name which makes it simple to be understood by everyone. People traditionally follow the occasion when they face the calendar and the date of observance. The explanation of the term "chiffon cake" is in the majority of dictionaries. They also give explanation as to its variants. Another name of this kind of bakery is "crazy cake". It was named in such a way due to its texture and height.
The name was given by its creator, Harry Baker. It's a light dessert which is made with flour, sugar, eggs and vegetable oil. Many flavorings are also added to it.
The light mixture is achieved mainly by usage of vegetable oil, though chefs insist on a certain difficulty to the air into the mixture. They advise to separate white and yolks. Such variant lets chefs make the foamiest variant. They beat separate parts of eggs for several minutes, and then they add sugar and start beating again.
This kind of sweet bakery is considered to be a merge of sponge and oil variants. Bakers obligatory beat egg parts separately and then fold the mixture to the batter. Lemon is also added into the batter. The dessert is very soft and moist which makes it popular among people.
What is the date of National Lemon Chiffon Cake Day? The event is observed on March, 29.
Traditions
The event can be very important for everyone who loves eating or making tasty desserts and can take part in the observance as a real chef or an ordinary person. The event is the time when everybody can find his own way of observing.
People who can make interesting desserts can try a new kind of a dessert following this recipe and using a lemon. The only task is to prepare ingredients beforehand. The recipe isn't very difficult. Even a child can make his own cake for parents and grannies. Friends will be surprised a lot tasting the sweet meal.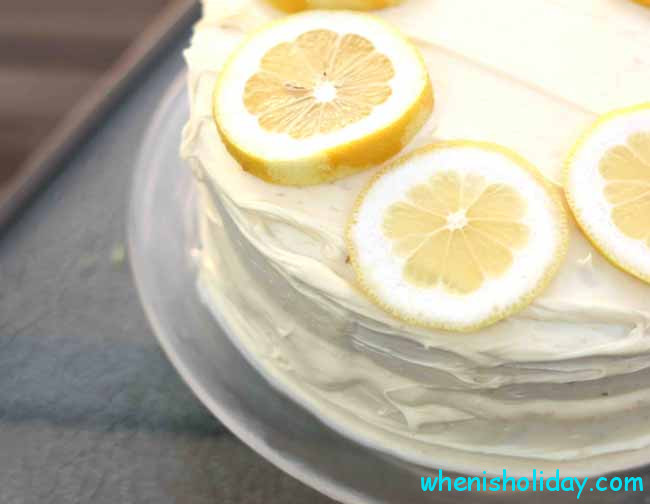 It's the time when everybody can make a tea or a coffee party to observe the occasion. Guests will be glad to visit such event, especially if they haven't tried the dessert yet. The new taste is likely to become favorite for almost everybody.
Children adore such holidays not only for sweet taste but also for the possibility to spend some time with their parents which are often too busy to be with their children. It can become a family tradition when a son or daughter buys ingredients and makes a chiffon cake with a mother. The event can be even a surprise for a father or a grandfather. Culinary sites and YouTube channels are a real help for a beginner.
Another way to spend the event is to visit local restaurants and order tasty lemon chiffon cake. It is not a rare meal so there's no difficulty to find it in any menu. It is a day when every person can find his favorite variant. It Is easy to find the event in a calendar of holidays. "When is Lemon Chiffon Cake Day in 2020, calendar".
International Lemon Chiffon Cake Day Facts
The creation of a dessert took place in 1927. Its creator worked an insurance salesman who later turned caterer. His name was Harry Baker.
The creator of the dessert kept a secret about the recipe. 20 years later that secret was sold to a person who made it popular. He was General Mills.
In the 40s the dessert got its final name.
The cake has more than 15 recipes with different flavors.
The popularity came to the meal due to the pamphlet which was published by Betty Crocker in 1948.
These cakes are considered to be healthier than other due to its ingredients.
Lemon variant is one of the most popular in the USA. The majority of US lemons are harvested in Arizona and California.