Do you like food holidays? Can they really attract you to other countries and territories? Are you ready to spend time in restaurants and cafes trying new meals or beverages? Then food holidays are certainly for you. Find the best meal that you like and get the date of its celebration. There're lots of days in the year which are devoted to special dishes of different national cuisines. Some of them bear the national value, such as pizza, sushi and others; but other celebrations can lead to misunderstanding. If you are a fan of fast food, you can celebrate the holiday which is devoted to the representative of such meals, a corn dog. When is National Corn Dog Day in 2021?
History
Corn dogs are recognized as relatives of hot dogs. Sausages as a traditional food of German people were also taken to the USA. Nevertheless, the local dwellers didn't used to eat such meals. This kind wasn't accepted for granted. It was necessary to invent something so that people could eat sausages without any difficulty. Sausage-makers had an idea to make a corndog. At first time it wasn't served with a stick.
The start of this food's history started in the 20s of the 20th century. 1927 became the year when the patent was given to the inventor of the meals. The spread of this kind of fast food wasn't rapid at all. People didn't accept it eagerly. Corndogs were made by different vendors. Later on the food became very popular.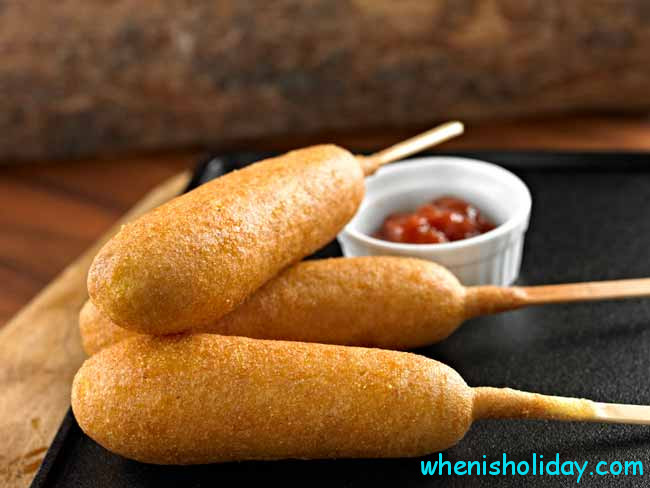 Despite the long process of becoming popular corn dogs might have several inventors as some people claimed for the idea of such food. In 1940s the Fletchers brothers represented the food as "Corny Dogs" during the fair in Texas which had the status of a national event. In 1941 the Minessota fair also got its own corndogs represented by the Pronto Pup. In 1946 two places that served corn dogs were opened simultaneously in different states, California and Illinois. They proposed food on sticks. It was the first time when people ate fast food on sticks.
The idea of the national holiday came in 1992. It happened in Oregon. H.Otley and B.Sahnow started observing the event. The observance wasn't declared as a formal event. People ate corndogs and played basketball. The next years the popularity of the event spread greatly. Beer and tater tots also began being served. The observance has got lots of sponsors. Nowadays the scale of observance is so great that the process is governed by some directors in different territories of the United States of America. The growth of the popularity of the holiday has led to the proposition to make the event a national observance in 2012. More than 5 thousand festive locations are annually set in the USA on the day.
"What day World Corn Dog Day?" The event is set on the 20th of March.
Meaning
What does National Corn Dog Day mean? The observance is something like a trendy event for many people and cafeterias. People use this date to visit many festivals and trading centers which propose different interesting ideas of celebration. The organizers propose a variety of different events, concerts and picnics. Besides, locations are various. You can visit local city park or go out into national park where a festival is located.
The event is always held on a week-day, that's why it easy to go out for a picnic with a family or friends for a whole day. It is one of holidays which don't need long preparations and nervous atmosphere. You don't also need to invite many guests, decide as to the menu and entertainment. It is a need to buy lots of corndogs, beer or coca-cola and wait for a party. It is high time to relax and spend much time outdoors.
The holiday is used by vendors to earn a great amount of money. They propose many interesting combinations of food and provide sales. The occasion is a great time to advertize a café and to attract hundreds of people.
When is International Corn Dog Day 2021? The event is spent on the 20th of March.
Definition
The word is an Americanism. It was invented in the 60-70s of the 20th century. The term means a something like a sandwich which is in bread. It is served on a stick. People usually eat it with mustard.
The term was invented due to corn bread which overwraps a sausage. The thing is served as a kind of fast food in streets and bars. The best taste is recognized when a sausage is fried before serving. Sometimes it is frozen beforehand and then fried. It can be browned in an oven. If you want to make a corndog yourself, you can also find frozen sausages in a local supermarket.
There are cheese variants. People can also try a cornbrat. It's made of bratwurst. They are made of turkey or pork. If you don't want a big variant, you can buy a "mini corn dogs" or "corn puppy". They are usually popular in the children's menus. There are also "corn dog nuggets", which are sold in an amount of 10. They aren't served with sticks.
What is the date of National Corn Dog Day? It's on the 20th of March.
Traditions
There are many ways to observe the tradition of the day. The main core of the holiday is eating corndogs. There is no matter where you can eat them. If you don't have a special place, you can just find any vendor in the street and buy one or two corndogs. As a rule, national parks and streets in the USA are full of such sellers. They usually propose a traditional variant of the food and serve it with mustard.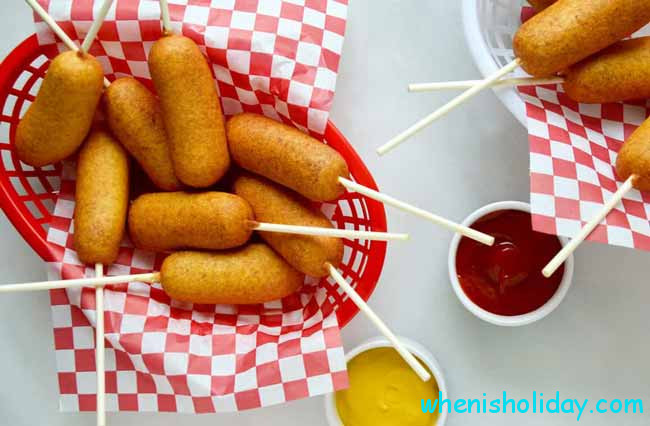 If you don't like street food, but adore fast food, try to make the food yourself at home. It is very funny to organize a picnic or a barbeque party and invite neighbors or friends. Don't forget to buy mustard and other sauces. Sticks are also obligatory. Involve children in the process of serving. Children adore such occasions. It is very popular way to celebrate such days because they can give pleasure, fun and relaxation.
Tourist companies attract foreigners to such parties. They can make a real advertisement to tourists. Americans also like to make small trip throughout the country during such days. The amount of visitors directly depends on the popularity of the place or event. One of such places is Coney Island. It gives a large variety of entertaining places for every visitor. Find events in the social webs. When is Corn Dog Day in 2021, calendar of interesting festivals and fairs?
International Corn Dog Day Facts
It was invented in 1927. The idea belonged to S.Jenkins who lived in Buffalo, though many other people tried to make the idea their own. The man made the patent of his invention.
The leader of sells is Texas. The statistics says that more than 600 hundred corndogs are sold by local vendors every year.
As bread is made of corn, the amount of calories is less than in a hot dog. People eat only 225 calories with 100 gr of corndogs. Don't use ketchup with them.
The latest inventions are a sushi variant a spicy tuna corn dog. The inventors are from Culinary Bro-Down. The taste was recognized as amazing.
Ketchup isn't as popular as mustard. People eat almost 2 thousand gallons of it during the festival every year.
The Canadians like vegetarian type.
In Australia they are known as "Pluto Pups".