Many holidays are devoted to historical events. But there are some interesting days that are observed in separate states. They honour the memory of historical figures that made significant contribution to the development of those places. Such observance is held in Hawaii every year to honour the memory of Priest Damien. When is Father Damien Day in 2018? What did the man do to become saint?
Living and deeds of St. Damien
Little Josef was born in a family with many children. He became the youngest child in the family. The boy's parents were rich merchants and with a farm in a small village in Belgium. The newborn saw the light in 1840, on January, 3.
Despite of the parents' expectations, the young man decided to enter the Congregation as a novitiate. So he had to move to Leuven. The young man chose a new name for himself. It was Damianus. It is considered that Josef chose that name from St. Damian who lived during the 3rd–4th centuries. He could make marvelous things. In 1860 he became a participant of the Congregation of the Sacred Hearts.
He wasn't a very suitable person because of lack of education, though his brother helped him to study Latin. That knowledge helped the young man to be a real participant. Young man was eager to carry a mission, so he begged his patron saint in many prays.
In 1864 Damien was sent to Hawaiian Islands instead of Father Pamphile. There he wore the cloth and became a priest. Habitants of Hawaii had lots of problems. Many illnesses had been brought from Eurasia by sailors and immigrants. Many people of Hawaii were infected with flu, smallpox and cholera.
Leprosy was also brought to the islands in the 19th century. The malady spread very quickly because of ineffectiveness in therapy. King of Hawaii even created a special act which obliged ill people to move into Kalaupapa, a settlement at the peninsula. It was almost an inaccessible land.
Damien was so concerned about ill people that nowadays they make different occasions to honour him. If you ask a Hawaiian "What day Father Damien Day in 2018?", he'll answer for sure.
For the first time the lepers got food from government, though the provision transferring stopped some time later because of lack of people and finance. It was thought that ill Kalaupapa's inhabitants could take care of themselves. Natural conditions and disease didn't let people do that.
In 1873 Father Damien went to Molokai, Kalaupapa. He became a priest for those people. The man organized a better way of life for people. Under his participation new roads, chapels and hospitals were built, houses were painted. Father Damien wasn't afraid of leprosy and behaved himself with ill people as an equal. It was ordinary to eat with them and live among them. Being the Catholic the man instilled hope and faith into people's minds.
Father Damien tried to do everything to improve people's living for 16 years. In 1884 he discovered his illness. Due to reasonable treatment Damien could stay alive for the next 5 years and fulfill manys projects with the help of other volunteers.
When he passed away, he was forty-nine years old. It happened on 15 April in 1889. Such is an answer on a question "When is Father Damien Day 2018?"
Facts about the priest
Father Damien left a great mark in Hawaiian history. He was later canonized due to deeds and some miracles. There are some interesting facts connected with his living and personality:
The lepers' settlement was hard to reach. Nowadays there's a narrow pack path.
Father Damien carried some funerals each day because of diseases.
The priest made many things. He even took part in making coffins for deceased lepers.
In Hawaii there's a high school which bears the priest's name. It practices Catholic religion.
Father Pamphile was his elder brother. He had to visit Hawaii but he got a disease and was replaced.
The priest was interred in Hawaii but in 1936 his remains were shipped to Belgium. In almost 60 years Hawaiian grave got the priest's right hand.
L.Stevenson visited Hawaii in 1889 and had talks with local habitants. They told him about their great Father Damien.
15th April is considered not only his day but Marianne Cope's one too. This day is included into the Episcopal Church's calendar in the USA. What is the date of Father Damien Day 2018?

The answer is 15th April

.
The Hawaiians can tell other interesting facts about St. Damien as a local legend.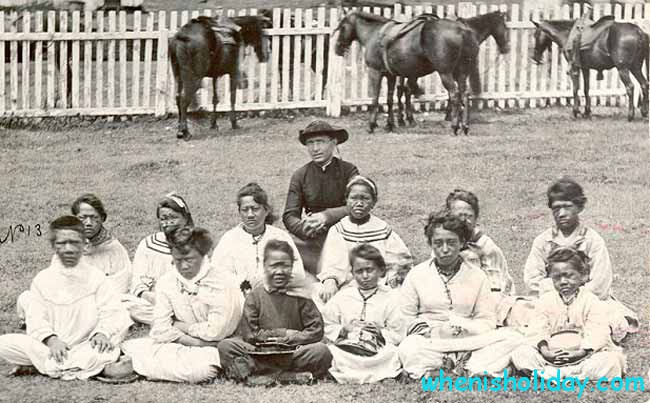 Canonization and honouring
The Catholic Encyclopedia has Father Damien as "leper priest" or "the Apostle of the Lepers" is the name of the priest in. He is venerable since 1977. He is Blessed since 1995. In 1999 liturgical calendar got Blessed Damien. The canonization was in 2009. Catholic Father Damien Day differs from the Hawaiian one. On the islands people honour him on 15th April, the day of his death. Catholic calendar set the feast on 10th May.
St. Damien of Molokai is a patron of lepers, people who are treated as social outcasts or have AIDS and HIV status. Father Damien is a patron of Hawaii. There's his grave which makes miracles. It has the man's right hand. It happened in 1997 when a woman that had a cancer recovered from it after praying at the Saint's Grave.
Though Father Damien Day isn't a public Hawaiian holiday, people organize a great variety of activities on the day. During the preparations the local habitants hang flower garlands (leis) on his grave and the tree above it. Church services take place at the Damien's grave and in the St. Joseph church which was built by Father Damien.
His monuments in Hawaii and Belgium are decorated with wreaths. There are many competitions of essay reading. Services are held in Catholic churches all over the world. Lots of ill people attend them and pray for recovering. If you want to pray to the Saint, write the request in the Internet "When is Father Damien Day in 2018, calendar Hawaiian or Catholic".