If you ask "What day Casimir Pulaski Day in 2018?", you will find very interesting information.
The United States of America have many traditions and holydays. A big part of these traditions were brought with emigrants from different counties. When these people left their homes and came to America looking for better life, they also took their holydays, traditions, with them. In XVIII century America welcomed people from different countries of Europe and Asia.
All this different cultures made the specific American culture. And this is the main feature of the culture of America.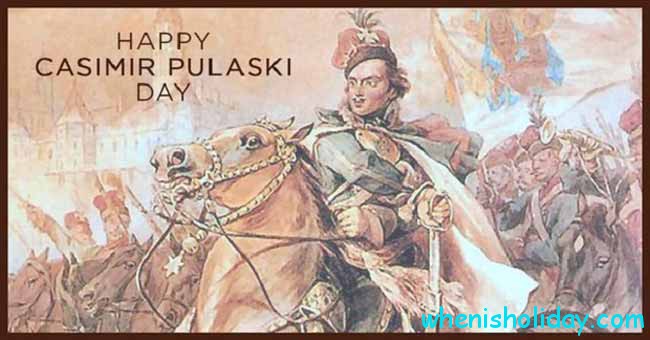 American government also welcomed good professionals to its army and administrative system. And many people who came to America with hope for better life found it. And some of them even became American heroes.
One of such persons and leaders is Casimir Pulaski. The USA even has the special holyday which is celebrated in honor of Casimir Pulaski.
What is the date of the holiday?
This special day has different date every year. This is because  the Casimir Pulaski Day is not the day with definite date. It's the day with definite day in month – first Monday in March. The next your question is: When is Casimir Pulaski Day in 2018? In 2018 it is 5th of March.
The Casimir Pulaski Day is not a holyday for all American states. This is an official local holiday in Chicago (state Illinois). The interesting fact is that in this day pupils don't attend their schools. This is also a day off for some offices (such as courts, libraries) in Illinois.
Who was Casimir Pulaski?
Casimir Pulaski was born in 6.03.1745 and died in 11.10.1779. So, you can see now, that the date of this holyday dedicates to his date of birth.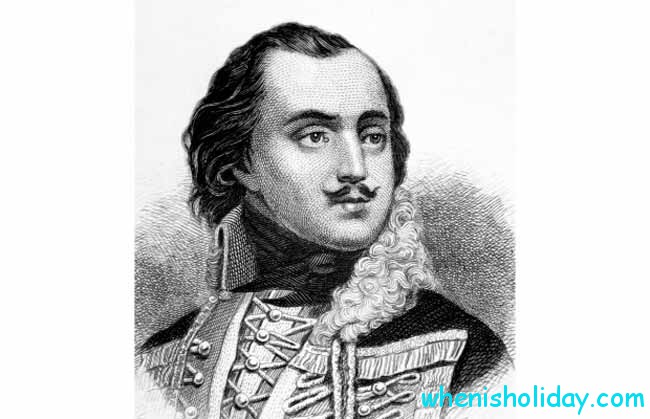 He was Pole by his ethnic origin. But he also fought for freedom of Polish and American people. And he also occupied position of cavalry officer during the American Revolution. Very interesting facts of this prominent pole is that he was named "the father of the American cavalry".
Casimir Pulaski was a polish nobleman. He joined the army and became a military officer when he was 19. His father took part in the Confederation of Bar and fought against Russia. Moreover, he was one of the people who founded this Confederation.
Casimir Pulaski took command at army and very soon he got a success and excellent reputation. But later he was charged in an insurgency for king's murder. This was the reason of his exile.
Pulaski had to go to Paris. But it was a wonderful present of fate, because he met Benjamin Franklin in Paris. Benjamin Franklin enlisted Casimir for help in the American Revolution in North America. And very soon Casimir Pulaski joined to army of George Washington.
About celebration…
American people are grateful to General Pulaski even in nowadays. As a holiday in Illinois it's celebrated from the 1978. The main events took place mainly in places, where the Diaspora of Poles is the most numerous. Central city of holydays events, of course, is Chicago.
The main building and the center of city life at this day became the Polish Museum. The representatives of the city administration and the state get together to pay respect to this outstanding person.
But if you are looking answer for question "When is Casimir Pulaski Day 2018?" you can find one more date. You can find the information about Memorial Day of General. It celebrates in October – as day of memory of his heroic death from wounding, that he got in the battle of Savannah in Georgia in October 1779.
Every year and this year also, many people, and especially polish people, remember what is the date of Casimir Pulaski Day 2018 and they celebrate it.
Some interesting facts…
Casimir Pulaski Day is also observed in public schools of Wisconsin. But schools in this state do not close at this day.
Banks of Illinois could be closed for this holiday.
In city Buffalo Pulaski Day is also celebrated. But it takes place in the middle of July. The main even at this day is an annual festival.
In Michigan people also have "Pulaski Days" – but this holiday takes part in October.
In one of battles Pulaski saved the life of George Washington (11th of September 1777) and after that George Washington gave him a rank of general.
A sea waves became a grave for General Pulaski.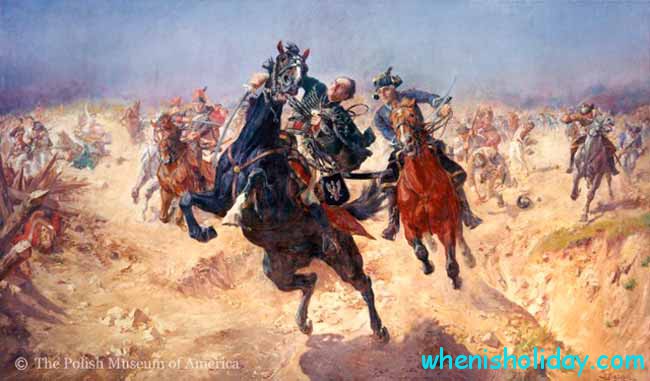 In 2009 both houses of the parliament of the USA adopted a resolution, which made Casimir Pulaski an honorary citizen of America. Barack Obama singed this resolution on 6th of November 2009. This event took place in Casimir Pulaski's death anniversary .
General Pulaski and also only 7 persons were granted with honorary citizenship of the USA (for all history of this country).
General Pulaski and popular culture.
Maybe, you will be surprised, but you can find and see many mentions about Casimir Pulaski in contemporary popular culture. We found several examples for you.
Songs! You'll be very surprised, but there are a lot of songs in honor of Casimir Pulaski. Authors and singers of such song are Sufjan Stevens, band "Big Black", Kidd Russell. All these songs were titled as holiday. But Andrew Bird wrote not only the song. He also is the author of a picture with the same name;
In TV-shows:
        The statue of General situated in city square was showed twice in "Gilmore Girls" (episodes in 3rd, 4th seasons).
        In "West Wing" (one "Stirred") general Pulaski was mentioned.
So, you can search for information about Casimir Pulaski Day in America and find several dates. You can make a list of these dates and you will know when is Casimir Pulaski Day in 2018, calendar for all year.