Lots of children across the world are orphans. Reasons of that status are various. Parents can die because of diseases and war, poverty and hunger. Accidents are another reason of becoming an orphan. The children who have this status can't be forgotten. They are very lonely persons and haven't got much care. The truth is that these children have lots of need. People all over the world try to think about orphans. Various charities are initiated across the world. Different organizations make many good things for orphans, especially on the special date. When is National Orphans Day in 2022?
History
Orphanage is known through the whole history. The Romans were the first who made it possible to provide the orphanage. It happened nearby the 4th century. Nevertheless, other countries' governments proposed different laws which provided the support to children who stayed without parents. They were to be helped and supported until they were 18.
Other governmental programs follow the Plato's words. The ancient philosopher stated that orphans needed care and concern of concrete persons. People have to take orphans to their homes and take care of them. The rules state that a man who takes an orphan under his care and control also rules his prosperity. It continues until a child reaches the adult age. This period is chosen in each country. It's usually 18 or 21 years old.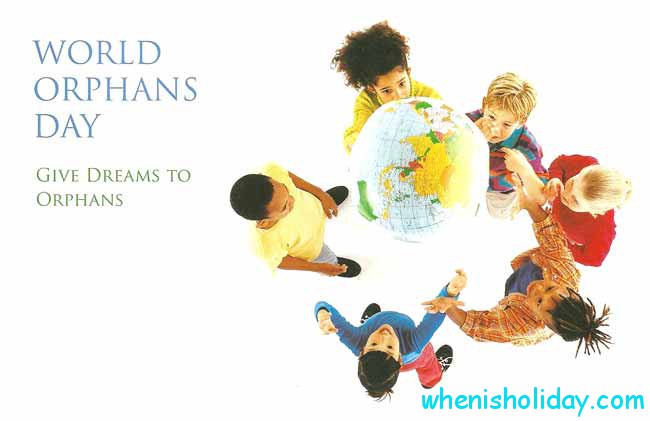 The Medieval European churches took care of orphans. They were brought up according to the traditions of the Catholic Church. Lots of children who hadn't parents could become priests or monks. Their prosperity was given to concrete religious establishments.
It was not a very good situation when children got to such shelters. The conditions of those establishments were awful. Little orphans didn't get care at all, except bed and poor food. They were offended very often. The great English novelist Charles Dickens described that awful situation in his masterpiece "Oliver Twist".
Modern orphanages don't usually differ from those ones. This way of bringing up the children without parents stays the worst way. People who work in such establishments don't give love and concern to such hospital boy or girl.
There's a tradition to take children from poor developing countries and bring them up. They get a great chance to improve their lives and have a worthy education. People from European countries and the North American continent propose their help and concern to these children.
The amount of good deeds concerning orphans is increasing greatly nowadays due to a special date. "National Orphan day" was initiated by the Stars Foundation in 2015. It was promoted greatly through the internet and mass media. The truth is that people try to do their best in providing social establishments where live hospital boys and girls with food and necessary clothes and toys. The event has got lots of supporters. "What day World Orphans Day in 2022?" It was set on the 2nd Monday of November. The event falls on the 9th of November.
Meaning
What does National Orphans Day mean for the majority of people? Though the reasons of orphanage are numerous, the lives of such boys and girls are usually similar. If they don't have other relatives who wish to bring them up as well as their own sons and daughters, they are taken to asylums which propose food and care to them. They live and get education in such establishments according to the governmental programs. In the majority of the countries there's a problem with financing. Charitable organizations try to improve the situation though it's a very complicated problem.
The day is a way to attract the public's attention to the problem and to provide more opportunities to these children. Separate individuals and social groups are involved in the problem and try to do everything they can to improve the children's lives in such dwellers.
It is a chance for many persons to improve their human qualities. This day is often used to organize various charitable evenings where lots amounts of money for asylums are got. The day is used by mass media and internet communities to promote the idea of charities among ordinary people. Special sites are devoted to this problem. It's a great idea to pay people's attention to the situation through publishing stories and photos of such boys and girls. When is International Orphans Day 2022? It's on the 9th of November.
Definition
The traditions of various countries provided their own meanings of this term. Some groups take into account only minors who lost both mother and father. This meaning is used in the USA. Other countries use this word for minor who don't have a mother or a father. The UNICEF uses the term in such situations.
Despite these separate meanings every country admits that a person has to be under a full age. A boy or a girl can't take care of himself or herself. According to the orphanage there are different kinds of such a term: maternal and paternal ones. The term "double orphanage" is used to describe a situation when both parents passed away. The law of some countries uses "a half orphanage".
The word is also used to describe this situation in the animal world. Though, it is used only when a mother of any animal dies.
The word in the modern form was noticed in the 15th century. It is a derivation from the Greek and Latin words "orphanos" and "orphanus". The word is nowadays saves the same meaning as it had in the ancient times, though the difference in the concrete meanings is emphasized by the territorial laws. What is the date of National Orphans Day 2022? The date is set on the 9th of November.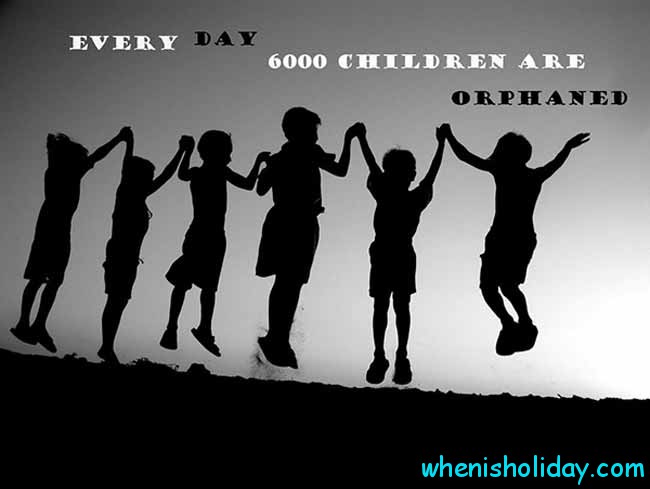 Traditions
Everybody can try to be involved into the process of observing the date. The best way to observe the occasion is to get information about concrete events which are provided in the world. Every person can figure out what exact deeds can improve the being of local orphans. One of these ways is to organize raising money for them. There are many educational programs which relate to orphanage. It is useful to provide various equipments to them.
Many people prefer to help a concrete boy or girl who lives nearby. They usually don't have an opportunity to taste various sweets and cakes. So, why not to buy them a big cake or other special things that every child likes? Such sponsoring can be a good start in life for every child who needs such help. The idea of sponsoring can be promoted among other communities.
Many countries provide a great amount of meetings and conferences where scientists, politicians and social workers take part. They discuss the most important issues and provide different plans to improve the situations. As the world statistics says, the problem of orphanage is much more serious that's why civilized countries provide special supporting programs to help developing countries to solve the most worrying points. If you want to take part in this process, find the information according to your country "When is Orphans Day in 2022, calendar of events?"
International Orphans Day Facts
The amount of minors reached 140 million.
Almost 18 million minors live in the streets.
The US citizens on average adopt 10 thousand minor from the developing countries.
Boys and girls who are raised in orphanages have less developed mental abilities than other boys and girls.
Many minors are placed to group homes.