The USA is one of the most powerful countries in the days of the modern world. That is why it is obvious that it establishes huge force, both intellectual, physical, etc. Concerning the last one, this country has a huge army, which is divided into several departments. All of them are actually equally important, but they should be certainly discussed separately because each of them is worth being mentioned in details. Here in the article, we would like to touch upon the topic of the US Navy because it is one of the most important country's forces. We will speak about their professional holiday and know, when is Navy Birthday in 2022.
The essence and history of the holiday
So, it all has begun a long time ago. Earlier there was no existing Navy at all. But at some time the war with British army began and pirates appeared, who were hired by British to transport ad sell them weapons and other equipment by sea. The main goal and work of US Navy were to search, catch those pirates and make everything to not let British get help from abroad.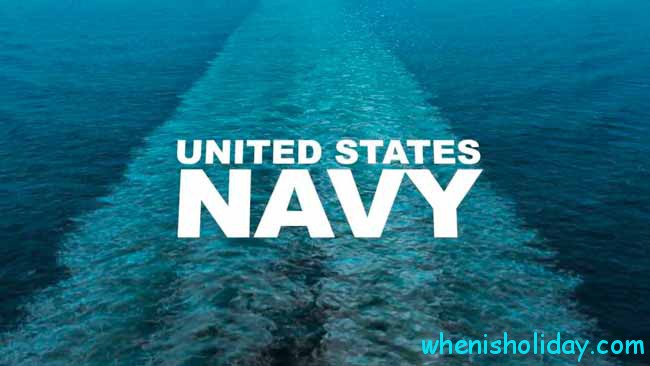 The first troops were collected in 1775. At that year, in autumn, Congress made a decision about the establishment of the Navy. They were sure that a small number of people in the see would be able to stop any efforts to supply the Britain and it all will help the USA to win the war. For that purpose, the Navy suited well and managed to do their work. But after the end of the war, Congress desired to widen their forces and scope of work.
But the war had its effects – the country had many problems, including not only political but also economic. As they wanted to make the navy more powerful, they needed more money to buy ships and hire more soldier. But there were no possibilities for that situation. After some time the situation has been so poor that Congress even had to sell their last ship and be left without nothing.
But when things became well and the economics became much better, Congress had more opportunities than ever and decided to buy the new ships, hire people and create new powerful naval. It all happened by 1790es and at that time the US navy became not partial, but the permanent structure of the country, which was aimed to secure their borders and seas. From times the holiday became Navy Chief Birthday.
Though this structure has been formed long and rather difficultly, its history is not more divided into these periods. The beginning of it all is still treated to be 1775, when such a structure has begun its life for the first time. All other things are just good or bad pages of its history and are counted till nowadays. All in all the history of the navy is very important for the country that is why all people here know, what day Navy Birthday in the United States in 2022 is.
Present situation and celebrations
So, as we have already understood, the holiday we are speaking about is a sort of birthday of the US Navy. Nowadays it works properly and counts many people. Since the first time, when is appeared and later was improved, it took part in several armed conflicts and had the opportunity to prove its force and protect the borders of the native country. The number of people, trapped there, counts about 300 thousand soldiers, and a hundred thousand of soldiers in reserve. It is a huge force and there are practically no countries, which can brag the same force.
As we have already decided, when is Navy Birthday 2022, we should not only take into consideration the year of its establishment but also the concrete date. On October 13 the Congress signed the paper about the Navy establishment and this date is celebrated till now as the navy birthday.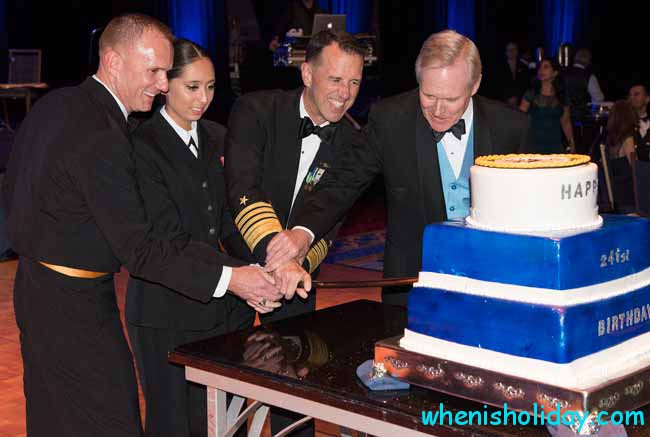 The celebrations of this holiday are very bright and scaled. Certainly, it is celebrated by people only, who are somehow related to the navy – acting soldiers and other personnel, veteran and other people. There is a tradition, concerning the celebration. In particular, a special ball is organized for all these people, where only related to it people are invited. There they all are presented a traditional official ceremony, they all are dressed in a festive uniform. There are plenty of entertainments, which are very exciting and funny.
There is also one more good tradition. As it is a birthday, then people usually have a birthday cake. Here they do the same – at the end of the evening, a special huge cake is presented, which symbolizes this great holiday. The cake is not simple but is made in a special design, certainly, related to the theme of the evening.
As to the other peculiarities of the day, it should be told that it is not a day off for usual people and that is why they sometimes may not know particularly, what is the date of Navy Birthday 2022. Actually, it is not obligatory for all to know all this. But for people, related to it, this day is very important and they really treat it so much. For example, this year it will be celebrated on Friday, but every year the concrete date remains the same.
All in all, it is a good holiday and people should treat it with respect. We often do not even think about these people, who work there, but every day and night they protect the country and are always ready to fight for people's freedom and bright future. It is not obligatory to celebrate this day for everybody, but at least we should show our respect to such days and at least know, when is Navy Birthday 2022, calendar may show it. It is really interesting to know, how it all began, how it has been developing and many other things.