This is a very important day in the life of every Christian person who likes animals and nature. Everyone remembers all good things, which are connected with the history of Saint Francis. When the Feast of St Francis of Assisi is in 2022, millions of people, usually small children, bring their animals to the temple to get blessing this Holy day of St. Francis for them.
Numerous places of worship conduct rituals of blessing. It could be both outdoors and indoors. Typically, this church procedure is carried out verbally and also with using of holy water.
Americans love holidays, but unfortunately, this holiday is not a public celebration in the United States of America.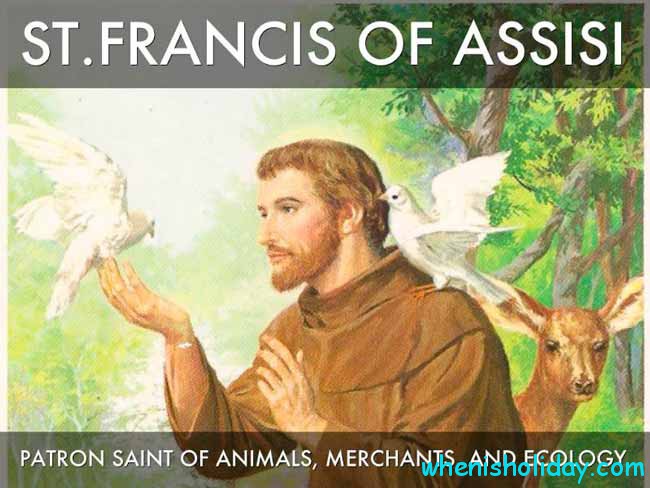 What can usually people do on this day?
A lot of churches and people in the world celebrate St. Francis on October, 4 each year.
It is known that St. Francis was the keeper of animals, that is why nowadays Americans also celebrate Animal Protection Day on October, 4.
The main temple of the Franciscan Order is Church of San Francisco in Assisi, which is located on the sunny lands of Italy.
The temple received worldwide fame thanks to the murals that depict the life of Saint Francis created by a master called Giotto and his students. When the Feast of St Francis of Assisi is in 2022, this church becomes the most famous place of worship.
Few people barely prefer bringing photographs of their pets: kittens, puppies, parrots or fishes. But sometimes people can bring exotic animals, like skunks or reptiles.
For environmentalists and their organizations, this day is also important, because Francis is the keeper of nature in general. These days various conferences that focus on the protection of flora and fauna can be held.
History
Going back to history should tell about what Francis of Assisi is exactly famous for.
The founder of the Franciscan Order was born in Assisi Umbria in 1181. It is one of the most revered religious figures in history.
The views of St. Francis in monastic life completely turned the idea of ​​it: the poor unfortunate image of a monk, he turned it into positive ideas which profess Jesus Christ.
Why is St. Francis considered the patron of nature and animals?
In the nature, he saw the reflection of all the divine, and in the nature, he saw the Creator. He behaved with all living beings as with brothers and sisters, always spoke about the careful attitude to them. His belief in this was manifesting in the protection of animals in captivity, because of this he freed a lot of animals and cared about them. Some facts nowadays say that St. Francis could even save pigeons that someone was bringing to the market.
In addition, he even showed respect to inanimate nature, didn't tread on water, and worshiped all rocks. We can say that Francis was able to create those centuries the concept and made friendship between humans and animals more common. Once Francis asked the emperor to issue a decree on the festive feeding of animals on Christmas Eve.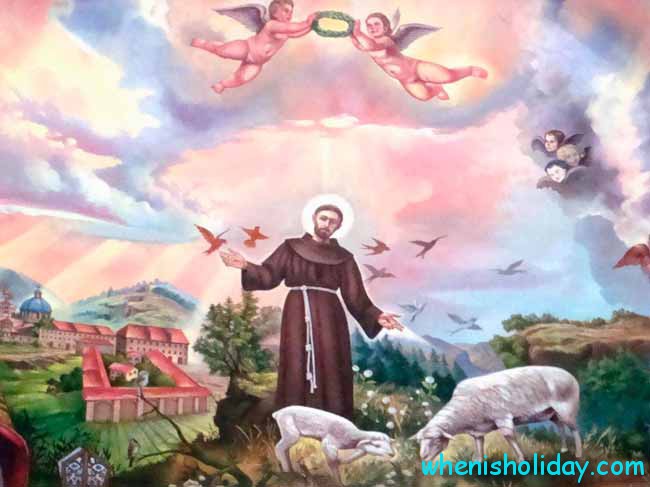 The saint emphasized the relationship between man and nature but believed that nature had a special significance.
After learning some facts from the biography of St. Francis, we can draw parallels between his philosophy and philosophy of certain Eastern religions and doctrines, including Jainism. Francis was somewhat radical in his convictions.
What does the day of Feast of Francis of Assisi 2022 mean for the Christians?
Some churches are trying to educate the citizens a sense of helping others his brothers and sisters – animals. That is why the priests urged people to bring animal products, such as meat and milk, and warm blankets to charitable animal shelters where animals could feel comfortable and secure. Thus the Church says to be good and compassionate.
All Christians in the world believe that we should pray on behalf of everyone, especially those whom we love. One should note here that it is a glorious deed to pray for our animals that loyally give us love, some peace, compassion, and share with us a lot of joy. These prayers for pets and devotions are a great way to regularly think about, send out intentions for, and offer thanks for your puppy, kitten, and other pets, such as reptiles etc.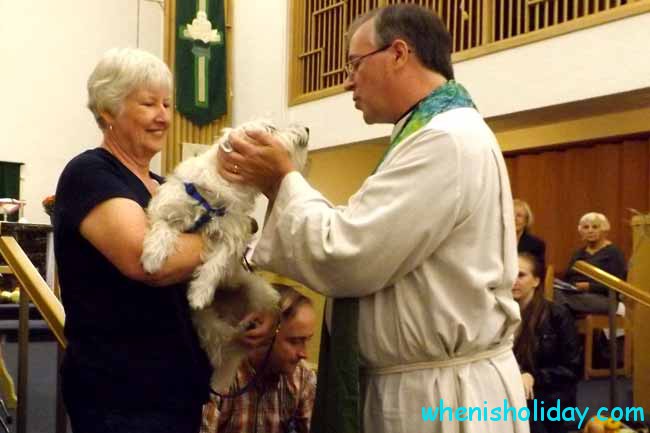 People usually pray for pets in this day. You can find below this sentence the example of prayers of animals.
Hear our humble prayer, My Lord!
We ask for all our animal friends,
Especially for those who suffer,
Who are alone and on the cold streets
For all whom hunt, who was lost,
Who was thrown, who is frightened or hungry;
For all who have to be lulled.
Take pity on them, be mercy!
And that who has to care for them,
Grant hearts, full of compassion,
Give them good hands, tell me sweet words.
Yes, we will be true friends for animals!
Yes, we will share with them your favor and grace!
Amen!
It is recommended to repeat this Prayer for animals before you go to bed.
Environmentalists are always actively involved in this mission, as well as volunteers and other defenders of animals. Based on the teachings of St. Francis there was founded a lot of charities and shelters. Many people successfully introduced to volunteer work.
Currently, the theme of animal protection is very important: hundreds of animals find themselves on the cold streets of the dangerous city over the irresponsibility and negligence of their former owners.
What do people usually give on this day?
When Feast of St Francis of Assisi is in 2022, most people transfer or give money to charity shelters, which is directly connected with the activity of St. Francis. Those who do not have enough money for donations bring a variety of food, materials for construction of housing for animals (cats, dogs, etc.) and go to church to ask for help for homeless animals.
Some parents even decide on this happy for the Christians day to fulfill their children long-held wish.