World Dream Day
What day is it?
Dreams are vivid images in our inner world that are perceived as realistic and fantastic, unattainable or quite possible for realization. It is said that the history of mankind is the history of great dreamers, because discovered continents, fateful inventions, ingenious works of art all began with dreams that at first seemed strange or impossible. Modern psychology recognizes that dreaming is useful — it allows a person to be filled with positive emotions and model the desired version of his future, so the process of dreams is often included in psychotherapy practices and personal development courses. There is also a holiday called World dream day — it is celebrated every year on September 25.
How did the idea to celebrate World Dream Day come about?
There are few studies devoted to dreams, and they began only in the last century, so we know about this human ability primarily from our own experience – every person has dreamed about something at least once. From a scientific point of view, a dream is an emotionally colored image of the desired future, which has subjective significance and value for a person.
For a long time, dreams were perceived negatively by psychologists — they were considered fruitless fantasies and almost a manifestation of ordinary laziness. Fortunately, now the professional opinion about dreams has changed to the opposite, and from the biographies of famous scientists, inventors, artists and politicians, we learn how the dream turned out to be an engine for discoveries and social achievements.
Leonardo da Vinci was recognized as a passionate dreamer. His paintings, frescoes, all technical inventions became the realization of the dream of human perfection. For example, the desire to fly like a bird prompted Leonardo to create prototypes of a parachute and a hang glider, and the dream of walking on water, as Christ did, helped to give rise to the idea of ​​water skis and a diving suit.
Famous dreamers
The ability to focus on a task is an important skill, and many consider it the secret to success. But close attention to the problem does not always lead to a result, instead, "insight" often comes when the brain is "flying in the clouds." For example, Einstein created the theory of relativity after letting his mind wander from the problem at hand. And the very idea of ​​this theory came to Einstein when he, as a teenager, dreamed of traveling with the sun's rays to the edge of the universe.
In an interview published in 1921 by American Magazine, the legendary inventor Nikola Tesla said that thanks to his unique ability to dream and visualize, he did not need drawings and models – inventions immediately came to life in his imagination. Thanks to the dreamer Tesla, people received many useful discoveries and devices, but scientists are still working on his unrealized dream of wireless energy transmission over long distances.
"All dreams can become reality if we have the courage to make them come true" – these are the words of Walt Disney. The creator of beautiful cartoons was distinguished by a unique feature – he considered any problem from the point of view of three different personalities: a dreamer, a realist and a critic. It is interesting that Disney was the first to "turn on" the dreamer, and in this state he came up with as many ideas as possible – the crazier they seemed at first glance, the more successful they turned out to be in the end.
Martin Luther King was destined to become famous all over the world thanks to his dream, but this man did not dream about discoveries in science or creativity, but about ending racial segregation in the southern United States. In the early 1960s, King was repeatedly imprisoned for organizing peaceful demonstrations, and on August 28, 1963, he took part in the historic March on Washington, which gathered more than 200,000 people of different races and nationalities. That day, Martin Luther King gave his "I Have a Dream" speech. The emotional and prophetic power of this speech greatly contributed to the state's passage of the Civil Rights Act of 1964.
Ozioma Egwuonwu
The initiative to establish World Dream Day belongs to the American Ozioma Egwuonwu. This woman is a famous writer, speaker, teacher and expert on corporate culture and human potential. Ozioma is the CEO of the international consulting company "BurnBright International", which helps people and businesses to reveal their potential, and is also the director of the "Rising Women Rising world" initiative – an association of women who take responsibility for building the world.
As an expert, Ozioma Egwuongwu advises a wide range of clients—government, Fortune 500 global companies, nonprofit organizations, educational institutions, small business owners and startup founders, as well as individuals—on leadership development and achieving top results. In 2012, while teaching her course to students at Columbia University, the woman decided to establish World Dream Day in order to expand people's opportunities to turn their important ideas and desires into reality. Since then, every year on September 25, we have an unusual holiday – a day when dreaming is not only not harmful, but even necessary.
World Dream Day in history
Martin Luther King gave his famous "I have a dream" speech.

Neurological studies conducted in the USA have found that dreams make up 50% of the total number of thoughts of an average person.

Ozioma Egwuonwu founded World Dream Day.

World Dream Day became a partner of the UN initiative "My World 2013".

Ozioma Egwuonwu held a UN briefing during which she announced the theme of World Dream Day. That year, it was called "Different Dreams" and meant a call for people to share their dreams for individual and collective positive change.
Frequent Questions and answers on World Dream Day
What types of dreams are there?
Researchers divide human dreams into two types: dream-game and dream-plan. The first is mainly characteristic of children and adolescents, it is often based on fantasies, and therefore the dreamers themselves are aware of its unreality. But at the same time, in half of people, with age, the dream-game turns into a dream-plan, that is, into a completely real reference point or project.
Does the ability to dream depend on a person's age?
Psychologists believe that children begin to dream at the age of 5-6, because it is then that the ability to set a goal and achieve it is formed, as well as the need to draw up a plan of action and take on future roles. Young people are the most active dreamers, and in adulthood and old age we show less tendency to dream, because the future becomes more and more predictable and realistic for us.
How long on average does a person "disconnect" from external stimuli, plunging into a dream?
Usually it seems to us that we have been dreaming for a few minutes, but in reality this period of time is even shorter – on average it is 14 seconds. However, this is enough for the brain to rest a little or generate an unexpected idea.
Is the ability to dream related to the level of intelligence?
A study conducted at the Georgia Institute of Technology in the US has shown that there is a connection between dreams and intelligence. Those participants in the experiment who were often distracted by dreams had better results in IQ tests and more developed creative abilities compared to convinced realists and pragmatists.
How to celebrate World Dream Day?
A separate site on the Internet is dedicated to this event – worlddreamday.org. There you can find free information about the places of festive events, although Ukraine is not yet in the list of countries and cities that have already joined this movement. But this will not prevent all willing Ukrainians from celebrating World Dream Day, because in reality it does not require special conditions and efforts.
On September 25, take some time to focus on your dreams, goals, and ideas that can change your life, improve your relationships, or improve your business. Some people find it difficult to decide on their main dream, so this is a good opportunity for them to get to know themselves better and their most cherished desires.
Surprisingly, psychologists and esotericists agree that dreams written down on paper are more likely to come true than those that exist solely in our imagination. Therefore, on this day, you should write down your dream – necessarily with all the details, such as colors, smells, shapes, sensations.
Those who have artistic abilities can draw the desired event. A dream "materialized" on a sheet of paper becomes a kind of declaration of intentions for a person, especially if you put your signature under this improvised document. For those who dream of mastering a certain profession, World Dream Day is a great reason to take the first step in this direction, for example, to write the first chapter of a long-conceived own book.
We get even more motivation and inspiration to realize our dreams when we share them with other people. If at least someone feels faith and support, it adds courage and energy in achieving the goal. It is no less nice to support someone's dream, especially since thanks to the Internet it is very easy to do this, for example, by sharing inspiring author's content with friends.
Holiday card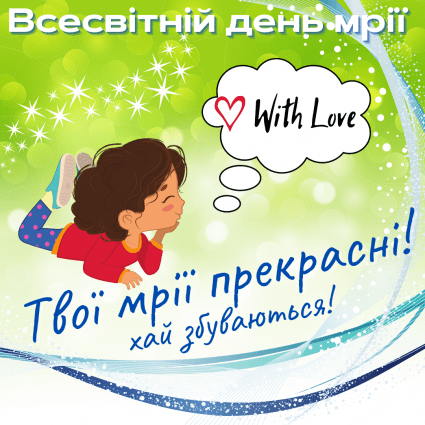 Why do we love this day?
Until recently, there was a fairly widespread opinion that dreams are just wasted time, which is much more useful to spend on specific matters. But modern science claims that dreams are an integral and important part of human life, and World Dream Day helps us learn more facts about it.
First of all, dreams reduce the level of stress and anxiety, because they "disconnect" the mind from the outside world and allow thoughts to flow calmly. This helps the brain to enter the so-called "alpha wave state" characteristic of meditation, when the body begins to produce calming neurochemicals. That is, dreams are not just entertainment, our brain needs them to rest after being in a state of concentration and activity.
Often during "flying in the clouds" we unexpectedly find solutions to complex problems. They appear as if by themselves, without effort on our part. This is explained by the fact that when we dream, we activate the parts of the brain responsible for creativity and gain access to information that was previously blocked.
Dreams help us achieve our goals — this is a scientifically proven fact. For example, in the practice of sports psychology, there is a method where athletes purposefully dream about their perfect performance at competitions. Such structured, realistic dreams set the subconscious mind up for success and help maintain motivation and overcome difficulties.
So, on World Dream Day, let as many people as possible discover the pleasure of dreaming, and together with it, change their lives for the better.
When will we celebrate World Dream Day??
| Year | Date | Weekday |
| --- | --- | --- |
| 2021 | September 25 | Saturday |
| 2022 | September 25 | Sunday |
| 2023 | September 25 | Monday |
| 2024 | September 25 | Wednesday |
| 2025 | September 25 | Thursday |