When is National Wish Day in 2020? We are almost sure that you can hardly reply this question immediately and without any additional prompts. You see, the holiday like this is not considered to be widespread or popular all around the planet. As a rule, only some people have already heard about its existence and they find it to be a very important one. In our turn we are sure that this special occasion requires detail investigation and explanation. That is the reason why we are going to discover everything today.
History
Talking about the direction what day Wish Day in 2020 is, we would like to represent our followers as many amazing pieces of information as it is possible. As a rule, all the matters concerning the historical background of the event are appreciated by our followers much. Unfortunately, this holiday has a sad history.
Once upon the time there was a small boy called Chris Greicius. He was only 7 years old and was suffering from terrible disease called Leukaemia. The little person had a dream. He wanted to become a police officer. Unfortunately, it was almost impossible, as nobody knew how long he would stay with us. Unfortunately, taking into account his diagnose he didn't have the opportunity to finish school properly and to enter the university. However, when the representatives of the local police station heard about this little dream they made a decision to realize it. They granted this wish and the young Chris became a police officer for one single day. Other people heard about it and thought that it was a great idea to help the sick boys and girls.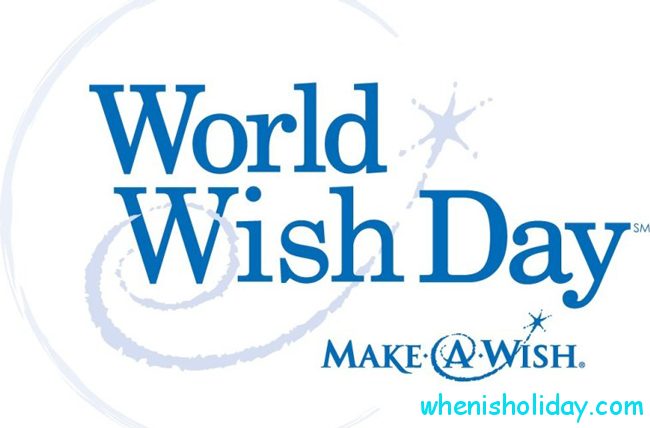 As a result of the wide-world movement it was established a special organization under the title Make a Wish Foundation. Nowadays it is considered to be the best and the most famous charities for kids on the planet.
Meaning
What does Wish Day mean? To tell you the truth, it is very difficult to predict whether you will pay attention to this holiday or not. In the modern world there are a lot of men and women who may find it unnecessary for celebration, so it is not a great surprise that they won't be involved. All in all it is up to you to decide whether to meet it or not, our aim is to tell you as much as possible about it.
The foundation is intended to fulfill the wishes of dying and seriously ill children. In accordance with the established rules, nationality, race, religion and the country where the sick child lives are not important.
We can't but mention that Michael Jackson was the honorary member of the Foundation. During all his life and until his death the singer sponsored the work of the organization. And even nowadays the donations haven't stopped, as dozens of American and European companies, belonging to the family of the famous person, continue to do everything possible to help. The charter of the Foundation prescribes assistance to children of a clear age category – from 2.5 to 18 years. Chris Graceus has remained the only honorary police officer of Arizona.
Definition
Investigating the question "When is International Wish Day 2020?" we thought that the matter needs the representation of some additional pieces of information. Some facts are really amazing.
Not everybody knows that for the first time this holiday was celebrated in 1977 in the USA. It was timed to the memory of the boy Christopher (his name has been already mentioned above), who died of leukemia. Unfortunately, in his life, the poor kid managed to make one wish to become a policeman.
At the moment when Christopher was better, Tommy (the policeman) and his comrades from the Police Department chose the day a day to fulfill his cherished desire. The boy received a real police uniform and badge. Christopher spent the whole day in the department, he happened to fly a helicopter and to ride with patrols through the streets of his native city. At the end of an unforgettable day, the boy was awarded the title of honorary employee of the Arizona State Police. Unfortunately, a few days later the boy died, as the disease has won.
Returning from his funeral, Tommy Austin and the police decided to create the special Christopher Foundation. Since then the main purpose of its work is to help dying and seriously ill children, as well as the fulfillment of their most secret desires.
Up to the present moment, the amount of Fund volunteers becomes more than 30 thousand people. They conduct their activities all over the world. In 1983, the first representative office in Canada was opened. Since 1993, the international branch began operations, bringing together five branches in different countries of the world.
Traditions
When is Wish Day in 2020, calendar will surely remind you and the only thing you have to do is to remember that it is usually celebrated on April 29th. The date is fixed and it won't be difficult to keep it in mind.
Frankly speaking, since the representation of the holiday, the format of its celebration has not changed. On this day around the world it is possible to participate in various charity events, auctions and sports competitions. The money, which is raised at these events, are used by volunteers to implement the desires of children aged 2.5 to 18 years old.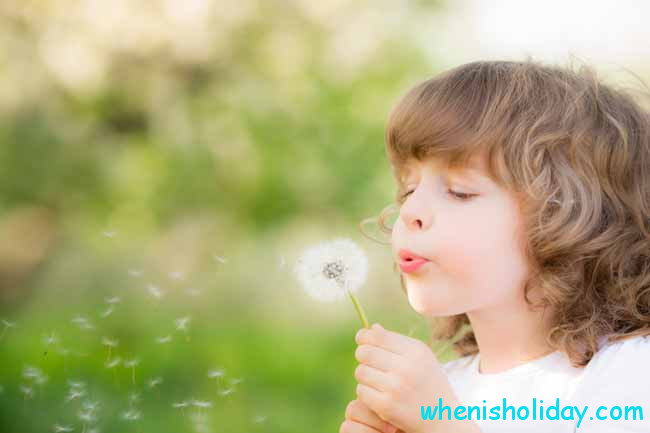 Their race and place of the small patients do not matter. The possibility of the fulfillment of a desire should be obligatory approved by the attending physician of the child. On this day, in hospitals and clinics, people visit sick children, bring gifts and sweets to them.
World Wish Day Facts
Talking about the matter "What is the date of Wish Day in 2020?" we can't but mention some detail, which may be interesting for our followers. Of course, every person wants his or her wish becomes true as often as possible. We are dreaming about something and waiting for its realization. In accordance with the specialists' points of view, this activity is thought to be quite normal for the people of various ages.
In general, unfortunately, the older we get, the less we believe in different kinds of miracles. In childhood, it seems to us that it will be enough to take a magic wand from somewhere, to wave it and everything turn into reality.
When we are becoming older, our optimism in this regard is gradually fading away, and there comes a time when we are confident that in order to get something, you need to work long and hard. In other words, we stop believing into dreams.
Every year a lot of trainings are held. There the respectable men and women are taught to make their dreams come true, including those that seem unrealizable to us. They spend money and time on these activities. However, they do not always achieve what they want and continue to be confident. Some of them try to return in their thoughts to childhood and to find the very permission to have everything you want. In accordance with some specialists' points of view, the main thing is not to allow doubt that the wish will come true, you will definitely get what you "ordered".
For those who still believe that any desire to necessarily need to pay, there is a second way to fulfill it. Our universe has plenty of ways to give you what you ask for, but it, like your parents used to, should know that it will receive something in return.
If you want your desire comes true, just believe in it and you will definitely succeed under any conditions.