Each country has its extraordinary mysterious folklore containing own characters and stories, hasn't it? In this case, today you will get acquainted with one of the most popular characters and story in American folklore. So, let's find out what and when Paul Bunyan Day in 2022 is?
PBD, which is observed annually for more than 50 years on 28th of June, is a festival dedicated to honoring the American history and folklore. For all the lovers, this day is a great opportunity to feel close to American lumberjack's nature.
The written story of tall lumberjack was so expanded that even a film «Paul Bunyan» by Less Clark and the operetta «Paul Bunyan» by Benjamin Britten were made.
History
Firstly, before getting directly to what day Paul Bunyan Day in 2022 is, let's check a bit about the history.
Bunyan is a mysterious enormous woodcutter from American literature. The first printed material connected with Bunyan, which is now well-known, was created by James McGillivray in 1910 (according to other sources, in 1906). Over time, in 1916, William Loghead cam invented the advertisement idea and determined to use the image of Bunyan.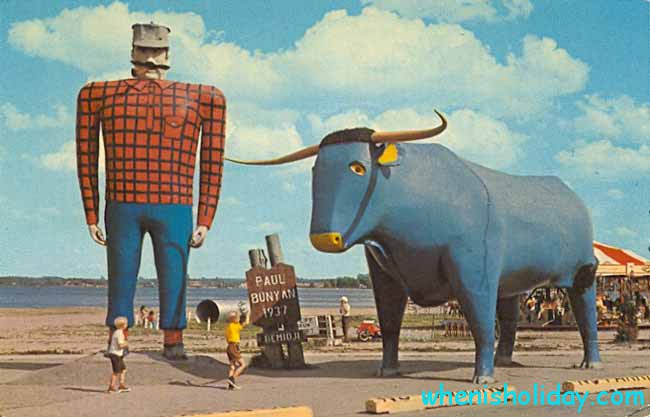 James Stephens published a book "Paul Banyan" in 1925. This book says that the Franco-Canadians created stories about Paul Bunyan during the Papino insurrection in 1837 when they had battles with England. This explains why Paul's surname is Bunyan, as it is the same to French-Canadian word «Bonyenne», meaning surprise, just as the English could say "Oh My God". The told stories connected with a giant woodcutter, of course, were changing a little, passing from one person to another. Also, many pictures of Paul are accompanied by a giant friend of Paul, the ox Babe. It is believed, the bull was created in the 1930s in order to promote and advertise.
A lot of settlements claim that the Bunyan's homeland is there. In Kellicher, Minnesota, you can find out a Paul Bunyan Memorial Park, where you can find a plate, on which it is written that Paul Banyan is buried there.
The USA adore this character so much that even one episode of a whole Simpsons season was devoted to Paul Bunyan. It was the in following way:
The first story is based on stories about Bunyan, a giant woodcutter from legends.
The gluttonous giant Paul (Homer Simpson) was a burden to others because he ate all the resources of local residents, so he was driven out of his native village. Suffering from loneliness, he cut the same gigantic statue of an ox from the rock and called it "Babe". One day after a lightning strike the Babe was born and they began traveling together. During one of his travels, Paul met Marge and fell in love with her; though at first, she was frightened of the giant, later she answered him in kind.
Meanwhile, the village astronomer (Professor Frink) discovered that the native village is threatened by a meteorite fall. The only one who could protect the village was Paul and the residents went to him with a request for help. Paul, along with Marge, returns to the village, where Paul beats off the meteorite and throws him towards Chicago, which causes the Great Fire there.
The death of the American hero is connected with a name Nanabozho. It is told that they were fighting for more than 35 days and Paul was killed by Nana's fish. In fact, there are some legends that Red Lake has appeared from torrents of Nana's blood which were coming from his wounds by the blue giant Babe.
To sum up, the character began to get friends, enemies, assistants, like Santa Claus, and already in the thirties of the last century, densely entered the American culture, taking root near roadside pubs and motels.
Meaning
Knowing what does Paul Bunyan Day mean will help you get acquainted with American folklore's nature and feel deeply what is it exactly for you. So, when Paul Bunyan Day in 2022 will be held, the aim is honoring the big axed character Paul and his giant friendly ox Babe by visiting the fairs and festival held in many states. There you have a chance to win many prizes and participate in many activities: from roller coasters to «Saddle big Babe».
Also, as it was said above, giant lumberjack is surely well-known for creating a Grand Canyon, so why not visiting this amazing part of the USA dream?
Furthermore, as all of us have the access to social media, it's highly recommended to accompany your emotions and experience with the feedback on Instagram, Twitter or Facebook, using #PaulBunyanDay2022.
Definition
What is the date of Paul Bunyan Day 2022? The calendar has clarified this issue and we can shed the light on the other part.
The character became so famous that even in XXI century, the movie «Bunyan» was made (2013). Although Paul is a positive hero in American folklore, the film tells us the other side.
Adolescents with a counselor go on a campaign. In the forest, they find huge human footprints and immediately recall the legend of the giant logger Paul Bunyan, who allegedly hides from people in local slums. The legend turned out to be reality and the guys screeched with horror from the monster…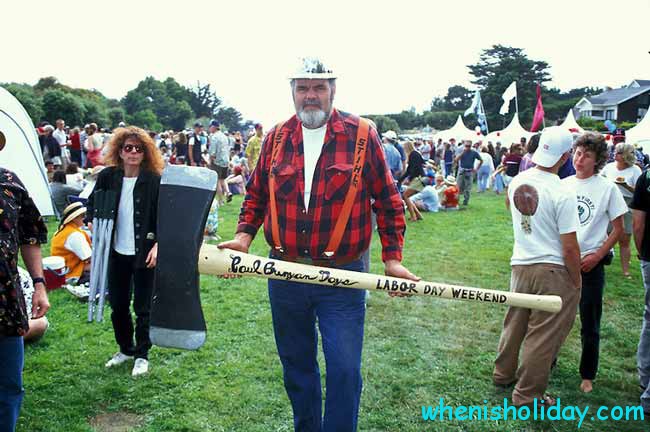 Traditions
This festival is quite an old one and many traditions in celebrating were noted. Let's plunge into their details.
A holiday is a good opportunity to get out on festival events and fairs, taking your friends and relatives with you. The celebration should be accompanied by taking part in rifle ranges with Babe ox's rewards and in «Saddle the Babe». Also, there are many roller coasters available on this day containing the machine in the form of Paul Bunyan and his giant friend.
Moreover, you are able to play hide-and-seek with other participants, and the winner team will get a free access to a horror room which lasts for 30 minutes and recognized as the most terrible one.
Furthermore, it's recommended to read one or several stories about P. Bunyan.
So, whatever you decide to do, the main task is to keep in mind what does the festival mean to you.
National Paul Bunyan Day Facts
In general, many interesting facts are noted during the history of celebrations. To get a positive finish, let's read some of them:
Paul Bunyan memorials are set in more than 5 states and 20 cities.
A giant lumberjack is a legendary hero, but in fact, he is a descendant of successful advertisement and good promotion into folklore.
This is an excellent example of mythologization when not culture affected the advertising, but advertising had an influence on culture.
Nowadays, you can see the mascot of masculinity in many movies and cartoons every day.
You can find 25-foot tall character at the Nortywoods Cook Shanty in Wisconsin.
The festival is so popular that even Paul Bunyan Cyclists exist. They gather annually in front of Red Lake and Rush Lake in Minescota, having a tour around 120 km.
Summarizing, there are many holidays and each of them requires getting highly positive emotions and experience. So, don't be lazy to put your feet up and make your life better.