Do you like desserts? Is it normal for you to eat something sweet on breakfast, dinner and even supper? Then you follow all holidays which are devoted to sweets or candies, or cakes. They are observed all year round in almost all countries of the world. If you don't worry about your weight, you can taste some sweet meals simultaneously. Try one of the most popular American variants, a sandwich with jelly and peanut butter. Its ingredients can be eaten separately as they are very nutritious. At least one day a year you can let yourself eat this sweet sandwich with two ingredients. When is National Peanut Butter and Jelly Day in 2020?
History
The strict date of the holiday's invention isn't exactly known. There's a theory that it was proposed by a fast food restaurant to attract the clients' attention to this food and to increase the sales of the products. For the last several years this sweet variant has been one of the most sold during the breakfast time in the American cafes and restaurants. Besides, it's advertised throughout the internet. People post their breakfast with these sandwiches. They also make videos with many interesting variants of serving the meals.
Ingredients are very popular in the United States. People cook them themselves or buy them in shops. Peanut butter may be called a national product in America. This country is recognized as the leader in exporting this product. Besides, Americans pay for the paste almost a billion dollars annually.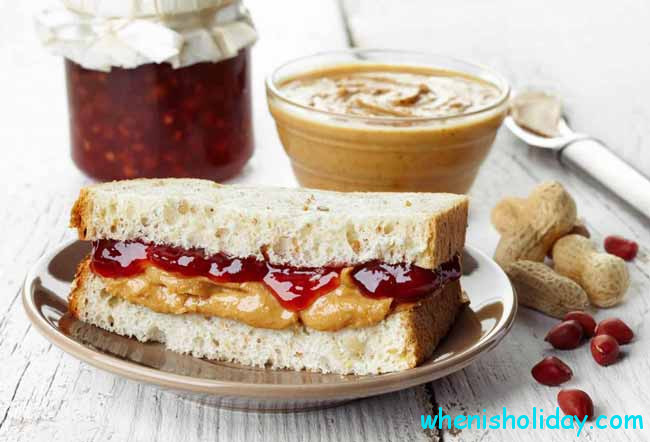 Peanuts were used during the centuries of Incas and Aztecs. It is known that the second tribe used this ingredient to treat a toothache during the 1st century AD. The patent for the new spread was obtained in 1884. Its creator is M.G.Edson, a man from Canada.
The man described the process of producing the product to get a patent. He roasted a great quantity of peanuts and then milled them into a fluid consistency. The sweet taste was reached by adding a certain amount of sugar. Besides, it helped to harden the mass. The last stage was cooling the product. The mass became a snack food due G.Bayle from St.Louis who began selling the spread in 1894.
At first the food was considered to be the product for wealthy people. It wasn't used by ordinary people in their everyday nutrition. This spread is a very nutritive product. People can use it without chewing. So he was considered a good food for patients of expensive medical centers and health care establishments. Nowadays every person can buy the spread whatever the income. It's interesting to taste it during the concrete date. It's better to know what day World Peanut Butter and Jelly Day is.
Great popularity of this product made it necessary to invent a machine which could hasten the procedure of the spread production. The first variant was designed by Dr. A.Straub and J.Lambert. These two men made a new machine and patented it in 1903.
The net stage was the usage of partially hydrogenated oil in 1922 by a chemist J.Rosefield. This method let to make smooth product. It was patented for the whole company that sold the product in 1928 under merchandise mark "Peter Pan". Four years later that man started his brand, Skippy. Being a chemist the founder of that brand continued reducing time and cost of the procedure of this spread making. The new method was developed. It let to produce the mass smoother. Besides, Rosefield started producing chunky variant mixing the smooth paste and fragments of peanuts.
During the 1950s the Procter & Gamble Company started adding molasses and sugar into the mass which made it much sweeter than other producers' product. The new brand was Jif.
Jam, confit, marmalade, chutney, fruit curd are variants of jelly. They're the representatives of many national cuisines. They're of different age and taste. All variants are very popular among people of various nationalities. Some representatives are used with meat meals, others are used only for desserts. US citizens like sweet sandwiches. When is International Peanut Butter and Jelly Day 2020? It's on April, 2.
Meaning
What does National Peanut Butter and Jelly Day mean? The observance doesn't have any important national value. It isn't a governmental holiday. Nevertheless, it can give a good profit to fast food restaurants and cafeterias. They traditionally participate in such observances in order to increase their benefit. The owners and managers thoroughly think over the menu and propose the most attractive variants to their customers. The day isn't usually advertized in mass media. Café owners give short ads about changes in their menus and special sales. Posts with photos also give the opportunity to attract more clients.
The idea of celebrating the observance in a family can bring a new continuous tradition. The event may be very important for those families that value the time spent together. It can be an annual visit to a café or an evening spent cooking and eating sweet sandwiches.
The tradition can bring lots of pleasant moments. It can join family members and friends. Relatives can provide an annual meeting. Picnic is another good way of observing this date. Time spent outside also brings good mood and health. What is the date of National Peanut Butter and Jelly Day?
Definition
The name of this observance can be clear to every person who has eaten the products or even heard about them. The idea to celebrate the event can come into mind of everybody who meets the information in the internet. The description of the observance can be found on any culinary site of the USA. The US citizens follow the tradition with great pleasure. They can also show their sandwiches in the internet.
This spread is produced from peanuts which are roasted and milled beforehand. The mix can be salted or sweet. It can be eaten with bread, toasts. It is used to make granolas and cakes. Pastries are also served with this sweet paste. People have a choice of several kinds of butter. Some people like crunchy variant with piece of peanuts. Others prefer smooth paste.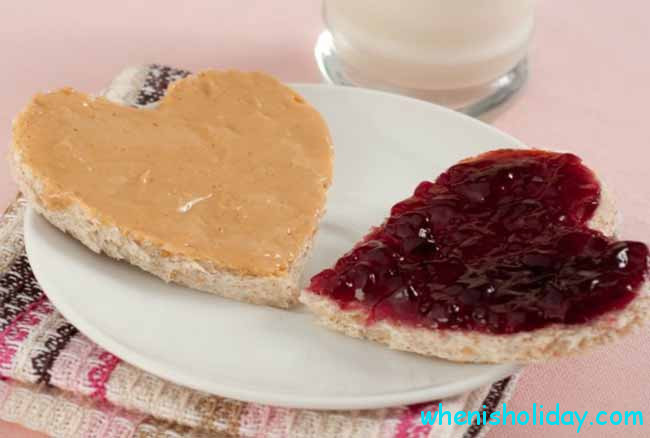 Jelly is a food which is made of juice or bullion and pectin or gelatin. The sweet mixture can also contain pieces of fruits and berries. Meat and fish jelly is used with greenery. Sandwiches with peanut butter and jelly are used with a sweet variant. The best variant to get much more information is to find it in the internet. "When is Peanut Butter and Jelly Day in 2020, calendar of food observances" The event is set on April, 2nd.
Traditions
Every person that likes this observance should invent his own tradition of observing the holiday:
Make a tasty burger with main ingredients. They aren't rare and can be found in any local grocery. In the USA such sandwiches are sold in almost every deli.
Make a cake to a friend or relative. The choice of cream is dependent on the people's preferences.
Take some sandwiches to the office and eat them for breakfast or lunch. Don't forget about colleagues.
Make sandwiches for an evening party. You should try to cook with children even if they are too small. Let them do everything they want. You will certainly try the most unusual variant in your life.
International Peanut Butter and Jelly Day Facts
Such sandwich falls face down in 75% cases.
Almost thousand peanuts are used to produce a 0.5 kg jar of this butter.
If you are an average US school graduate, you have already eaten 1500 sweet sandwiches.
A half of the harvest of peanuts is used to produce the peanut butter.
The biggest sandwich contained almost 70 kg of peanut butter and 23 kg of jelly. The huge tasty product was made in Pennsylvania in 1993.