When is National Take Your Pants for a Walk Day in 2022? Well, to tell you the truth, we are almost sure that you won't be able to answer this question even under the condition that these clothes are considered to be in the list of your favorite ones. We find this situation to be unfair, and it is the main reason why we are going to represent you this special occasion today. Are you ready? We are starting!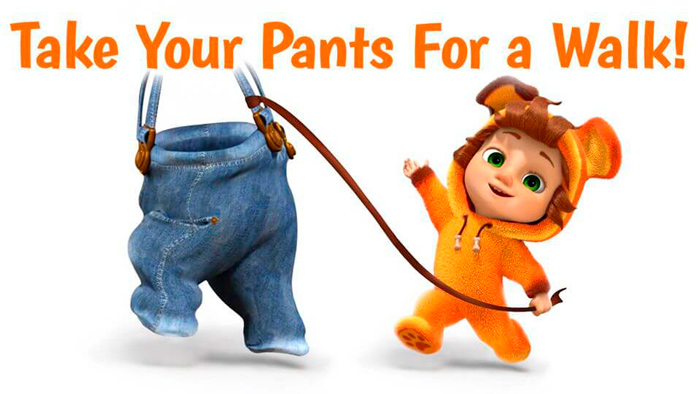 History
Discovering the matter what day Take Your Pants for a Walk Day in 2022 is, we can't but mention the historical background of this event. As a rule, this direction is of the greatest among our followers. Unfortunately, we don't know for sure when and why the holiday appeared. The names of the establishers haven't been found out as well.
Casual style is traditionally considered to be the most required one for walking in the open air. The name of this fashion direction can be also translated as "everyday", i.e. with an emphasis on convenience and practicality. The birthplace of this trend is Great Britain. The 50s of the last century, marked by post-war economic growth and an improvement in the well-being of the population, are considered to be the time of the birth of the casual style.
The emergence of the casual style is associated with the emergence of the Teddy-boys subculture (Ted is an abbreviated form of the name of King Edward VII). Its founders and later keepers of traditions were young guys who were able to achieve financial independence from their parents. Thanks to the high incomes of those times, young people could afford to buy stylish clothes and look like the upper strata of society. Such tricks were resorted to by ordinary people to emulate their peers from wealthy families and members of various groups who pretended to be representatives of the elite. They usually wore white-collar shirts, woolen jackets, tight pipe trousers, and oversized boots.
At the turn of the 50s and 60s, Teddy Boys were replaced by Mods, who paid much attention to their appearance. Representatives of this movement were distinguished by the following elements:
fitted suit;
nylon shirt with a narrow collar;
thin tie;
boots with narrow socks;
leather jacket with a zipper.
The followers of the casual style of those years bought clothes only from well-known and expensive brands, and often young people's wardrobe items cost more than their bosses.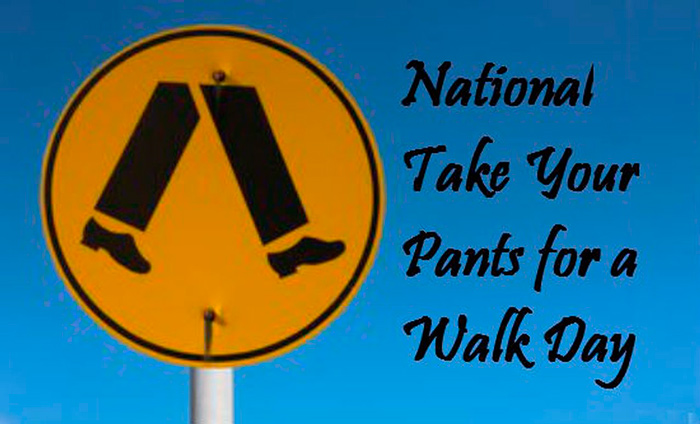 Meaning
What does Take Your Pants for a Walk Day mean? Frankly speaking, we can't say for sure whether this occasion means something special for you or not. It is up to you to decide. We don't know you personally, so we can't even predict your attitude.
The matter of how to dress beautifully while you are walking worries a lot of modern men and comfortable. However, what to wear for an ordinary walk in order to look stylish and at the same time not provocative? Actually, everything is much simpler than it may seem at first sight.
Nowadays it is possible to find any spacious pants you would like. The choices are usually endless. As a rule, good things usually become the best friend at weekends when you wear them with the favorite cozy sweatshirt and colorful shoes.
If you want total freedom, it is usually recommended to buy jeans of your size, or even a size larger. But make sure they fit you well and suit your thighs and buttocks. If not, remember that that a good tailor can work wonders with them, so if your larger jeans need help in some areas, like, for example, the waist, take them to a tailor before you wash and start to wear them.
All in all, we can't but mention that the contemporary people impose much higher requirements on clothing for active rest than for everyday style. Following their points of view, it should be not only beautiful and comfortable, but also as practical as possible. The durability and functionality of the model depend not only on the operating conditions, but also, above all, on the quality of tailoring and fabric.
Definition
The question "When is International Take Your Pants for a Walk Day 2022?" involves a lot of amazing details. Today we are going to represent you some of them.
As it has already mentioned above, the casual style appeared a lot of time ago. Here we add that over time, street style became so popular that representatives of the subculture ceased to stand out among the general mass of people.
To emphasize their belonging to the fan environment, the hooligans began to buy clothes from brand stores in other European countries, where they went to support their team.
The contemporary casual style of clothing for typical men and women of the 21st century involves a set of different combinations of a sports jacket together with a quilted vest and, for example, a sports shirt. Under the condition, the casual style of clothing for girls and boys allows you to wear denim pants and wellington rubber boots. Choose this direction and you will look luxurious in a cool summer day.
Traditions
When is Take Your Pants for a Walk Day in 2022, calendar will surely remind you. The holiday has a fixed date of its celebration. It happens annually on July 27th, and you are free to join any year you would like to do it.
As you perhaps understand there is no need to expect that the local authorities will organize something special devoted this special occasion. As a rule, they don't even know about its existence. But you shouldn't get worried or upset because of it. Just use your creativity and you will find the way to create a real holiday.
Nowadays casual style is considered to be very popular in a modern environment. Beginning from the 70s of the last century it has become popular. It is usually accompanied by the emergence of a new fan movement.
Typical attributes of the style are polo shirts, jeans, ski jackets, sweaters, trainers or sneakers. These products do not restrain movement and are ideal for participating in fan showdowns or performances at the stadium.
What about trying this style on holiday? – We are sure you will like it!
National Take Your Pants for a Walk Day Facts
Talking about the question "What is the date of Take Your Pants for a Walk Day in 2022?" we can't but mention the peculiar features of this special occasion.
Modern production offers a full range of models. As a rule, you can choose the pants designed, especially for different types of physical activity.
Running. For this sport, tight-fitting leggings or breeches made of high-tech materials are ideal for this purpose. Such fabrics wick moisture away and do not hinder movement. For maximum comfort, choose a model with flat seams and a wide elastic waistband.
Hiking. All in all, these trousers for sports are a great option for lovers of an active lifestyle. Warm trousers are ideal for hiking. They are specially designed for long walks in nature. The catalog contains models with knitted gaiters for protection from snow and water-repellent impregnation, which allows trousers to be worn in high humidity conditions.
As a rule, contemporary catalogs contain many models in a sporty style. These are dark, light or bright trousers of various cuts, from tight-fitting leggings to wide models. Blended fabrics or pure cotton are used for their production. Usually they are represented by durable and comfortable models with elastic belts or zippers.