Parents' Day is a special family holiday that is celebrated in the USA, Asia and Africa. In Europe this holiday is shared into two other holidays, if it is possible to say so: Mother's Day and Father's Day which are celebrated separately in different days.
On Parents' Day children show their love, respect and gratitude to their parents. When is Parent's Day in 2019? As any other holiday, it has its own day in history and in different countries it is a different day.
Parents' Day as an International Day
Indeed, not many are aware that Parents' Day was declared by United Nations as an International Day. However, it was named a bit differently, more precisely, Global Day of Parents. The meaning of the day has remained the same – to honor the parents all over the world for their endless commitment to children. What day Parents' Day in 2019? Speaking about Parents' Day as an international, it is celebrated in all parts of the world on the same day – the 1st of June.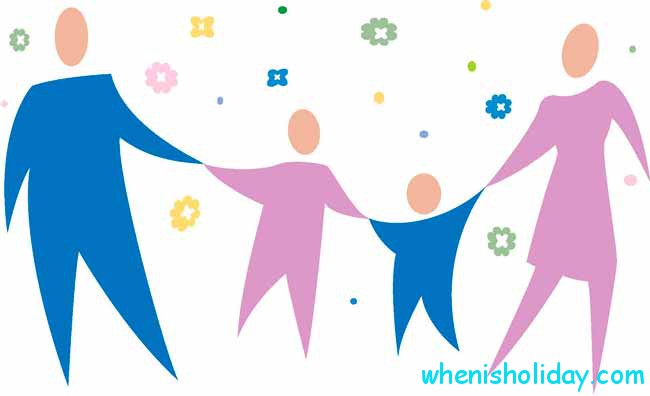 It is a wonderful occasion to make the first day of June special, gathering all together with your family in gratitude for everything what parents have done, for their eternal, endless love and support. It is an interesting fact that on the first day of June the whole world celebrates International Children's Day as well. There is no the better reason for mutual expression of gratitude and spending time together than his unique day which includes at once two great holidays.
It would be nice to make a tradition to spend this day together with your family. At least once per year to pay proper attention to those who are always close and for whom there is always not enough time. This special day makes a lot of people thinking about things in their family they would like to improve or maybe something was wrong and they want to change. In this case, Parents' Day opens the window of opportunity to reunite with your family or even to change something to the best.
US celebration of Parents' Day
It is fair to say that Parents' Day is the most popular in the USA. It was established not so long time ago, more precisely, in 1994 by Bill Clinton, the former president of the USA. The meaning was in combining of two other different holidays (Mother's Day and Father's Day) in one. And it was a brilliant idea supported by people.
Every year this holiday is celebrated on different dates. When is Parents' Day 2019? To answer this question, you do not even need a calendar. Everything what you need to know when the official date of Parents' Day in the USA is – to remember that it is on the 4th Sunday of July.
It is that special time when children can express the warmest feelings to their parents making them feeling extra special. It is popular to go somewhere out with your parents on this day or just have together lunch or dinner. If the weather is nice, a lot of people prefer picnic or barbecue. Usually children surprise their parents with small gifts, flowers or handmade cards and souvenirs. Americans like with day and celebrate it in all states.
Parents' Day in other countries
Parents' Day as a united holiday of Mother's Day and Father's Day is celebrated not only in the USA, as it has been already mentioned. There are more other countries where Parents' Day is a national holiday but it is celebrated not on the 1st of June as in other countries all over the world. Among them such countries as:
South Korea;
India;
Congo.
Especially important and touching this day is in South Korea. Koreans do not have questions like: «What is the date of Parents' Day?». They know that exactly because it is a fixed date and from year to year they celebrate Parents' Day on the 8th of May. Like in many other countries it was originally Mother's Day. However, over time it was decided to devote this day to both parents.
Children show their appreciation of parents with flowers or gifts. As for flowers, it is a tradition in South Korea to give parents red carnations on this day. Everything around is changing and present for Parents' Day in Korea also becoming more extraordinary. Today it is popular around Koreans to make useful presents for parents. It can be certificate for beauty treatments or even plastic surgery.
Such original «healthy» presents children make for their parents in order to return them the past beauty and youth. In other words, it is a modern form of gratitude of Korean children to their parents. Surely, such practice can seem a little bit strange for some countries but not for South Korea.
Another country where Parents' Day is not on the 1st of June is India. It is well known that Indian appreciate strong family relations and children have a deep feeling of respect and honor to the parents throughout the whole life. That is why Parents' Day is really a very important and meaningful holiday for them. When is Parents' Day, calendar always shows the same date – 28th of July. In Congo Parents' Day is almost at the end of summer – 1st of Augustus but it has completely the same meaning like in other countries all over the world.
Value of Parents' Day
In modern society Parents' Day is the celebration of parenthood and not only. It also has a very unique value. Unfortunately, nowadays institution of the family is not so stable like it was years ago and families based on marriage where two parents raise their child are destroying by many factors. According to modern scenario, divorces occur as often as marriages. In society where couples break down so easily, such holidays as Parents' Day can be a real lifeline.
Parents' Day returns the main postulates and importance of traditional families. It also restores an idea that it is important to raise children in a full family but not only by one of one of parents. This day allows to realize the importance of mother and father for a child and their role not only in a family but also in society. Surely, Parents' Day plays a secondary role in understanding how much family is important. However, it helps a lot at least to think about important things which we might not pay attention to.