Are you fond of reading book? Do you find yourself to be a real bookworm and the owners of the book stores have known your name and working schedule already? If the reply is "yes", you are probably able to answer the question "When is National Hobbit Day in 2022?" other people need clarification and explanation, how to celebrate September 22 properly.
History
Of course, we understand that it is impossible to tell what day National Hobbit Day in 2022 is without discovering the historical background of this special occasion. Frankly speaking, the term of this holiday existence is not so long.
It has been celebrated since 1978. The main initiator of the establishment of such a holiday was the American Tolkienist community.
It is noteworthy that there are currently disputes over the correct date for the celebration: because of the difference between the fictional calendar on which the hobbits live in Tolkien's works, and the real Gregorian calendar. Nowadays we celebrate the birthday of Bilbo and Frodo on September 22, however, there are some specialists, who are sure that, according to the contemporary calendar, it must fall out approximately on September 12-14.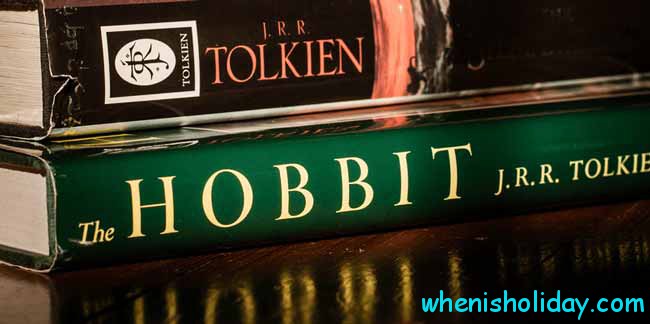 Meaning
What does National Hobbit Day mean? Frankly speaking, it is up to you to decide whether to celebrate it or not. Believe you or not, but in the modern world there is a great amount of people, who haven't read this book yet.
As it is known quite well, Tolkien, as a famous author, was fond of various legends, different myths, amazing stories, pretty fairy tales, cute proverbs, aimed sayings and merry songs, filled with deep sense. A significant part of our September 22 can be devoted to studying or just reading such attractive works. By the way, these books are considered to be a basis for contemporary computer and video games, appreciated both by children and by adults.
Be attentive, while you are entering the hobbit home-house. If the organized party is held somewhere indoors, ask all the guests to take off their shoes, boots or sandals at the doorway! Hobbits like only barefoot visitors.
Encourage guests to dress up in hobbits' outfit. You see, it will be rather interesting, won't it?
Definition
Hobbit Day is the birthday of Hobbits Bilbo and Frodo Baggins, the famous characters of the works of John Ronald Ruel Tolkien. The holiday, of course, is unofficial, but it does not prevent it from being loved by admirers of Tolkien's works, called Tolkienists. The date as well as the manner of Bilbo and Frodo's birthday celebration was pointed out by the author himself in his books.
So you have already found out the answer to the question "When is International Hobbit Day 2022?", but do you want to know how to spend this special occasion amazingly? – We will help you, then, of course.
At the very beginning we would like to mention that all in all the notable event traditions are similar in many respects to the celebration of Bilbo Baggins' birthday, which was described in the famous and popular all over the world saga "Lord of the Rings".  As a rule a great party is organized. There are a lot of delicious food, dances, music and, of course, fireworks.
At the same time, don't forget that celebrating this day you should imitate hobbits and come to the party barefoot.
https://youtu.be/keRmxiOxnlo
Traditions
When is Hobbit Day in 2022, calendar will surely remind you, but do you know the peculiar features of this celebration?
The best way to spend September 22 is to do it in the company of small children. Why? – The matter is that only they are able to enjoy such an event fully and sincerely. As a rule, boys and girls share a great amount of positive energy and you will get it either.
Here is the list of the most important details:
How to choose the place of celebration? In good weather, of course, we can go to nature: a park, a garden, a playground in front of the house where your beloved small hobbit can run as much as possible and calm down the notorious hyperactivity. In bad weather your apartment should be turn into a real hobbit hole. Do not forget to remove all shoes: today your feet will rest at last.
Does the holiday require any decoration? Your little hobbits automatically become the best performers ever. Draw posters on the theme of books: Hobbits' houses, their portraits, "battle scenes", etc. Balloons can also turn into the heroes of books themselves. Do not forget to create the special bookmarks that you can put into books in the places where your favorite episodes are. And remember that reading aloud fragments of books of all participants, regardless of age and "rank" (parents or children, grandparents, etc.) is the main and magical action of this holiday. Fans will enjoy!
What about the gifts? On the day of the hobbits, it is customary to give presents. Adults can afford everything: Lego figures Lord of the Rings and the Hobbit, T-shirts with the symbols of books, board games, dolls, posters, key rings, puzzles. But don't forget that favorite book is the best idea.
In what way to organize the festive table? First of all, we ask you to make sure that you as well as your guests have a proper amount of various foods on your holiday. It is up to you to make a decision what to choose. It may be either a large dish, or, for example, a variety of snacks. All in all the hobbits have been known for their meal preferences from the first book. The specialists recommend to cook something tasty together with children.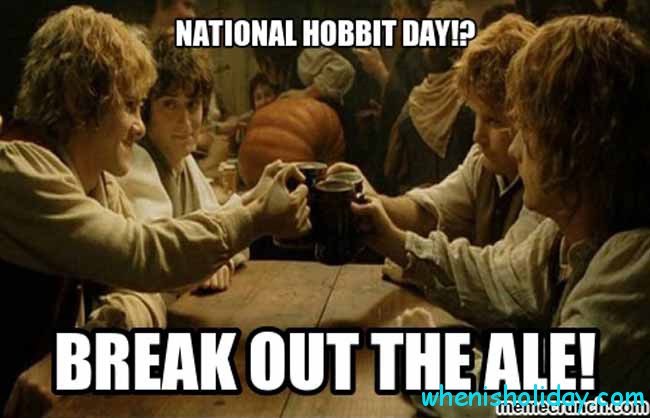 Hobbit Day Facts
So if you are asked "What is the date of National Hobbit Day 2022?" you can answer without thinking that this special occasion is celebrated all over the planet on September 22. But would you like to find out some amazing facts about this event?
Here is our list:
Have you ever heard that the book "The Hobbit, or There and Back" was written by John Ruel Tolkien not for sale or for printing? Oxford professor had the purpose to write a small fairy tale, a story to read to his own sons. But he was so carried away by his work that he drew maps and illustrations that complement the work. At first there was only one hand-written copy of the book, which the professor occasionally gave to read to his friends and students.
It was thanks to one of his students that the book appeared to the public, and later it was continued in the form of the trilogy "The Lord of the Rings" and "The Silmarillion."
Another interesting fact is that the first and the main reviewer for this book was a 10-year-old boy, the son of the publisher's director, in which the work was published initially.
If you are celebrating this holiday on the street, this is an exclusive opportunity to throw rings, to jump in bags and other outdoor games, of course. At home try to play the so-called spoiled phone, charades, putting on a hat on a hobbit, drawing a blindfolded portrait, quizzes that you invented yourself or with the help of the Internet.
And when the holiday comes to an end, the festive table is empty, gifts are distributed, the tired, but happy children have gone to bed. It is the time to invent the interesting way to finish this day. Tired and slightly hoarse voice will be a perfect decision. – Read to your children some favorite moment from the book.
Oh, and don't forget to wash your feet carefully. No matter they are dirty as you have been running barefoot all the day round.