Every country has its own history. And, of course, not all of it is filled with happiness. This shows in local culture and traditions, such as holidays and national days of mourning.
So what are exactly "national days of mourning"? These are days of grief and sorrow, mostly in commemoration of dead people. Mourning days can be connected to tragic historical occurrences, such as genocide or war, or relate to catastrophes and death of certain social groups.
Usually, on days like this partying is prohibited, same as any other social entertainment activities. It's also called "silent days".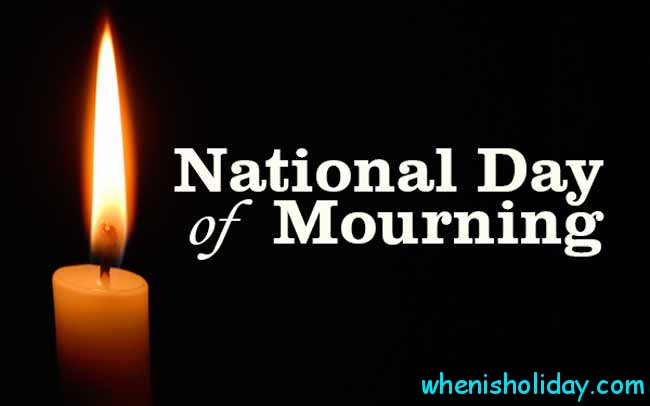 Today we will take a look at days of mourning in America, Canada, Australia and Germany. We will also talk about such things as history and traditions of those days. We will establish when is National Day of Mourning in 2018, too.
In America this unhappy day usually occurs the same day as Thanksgiving does, which means it's observed on the fourth Thursday of November. What is the date of National Day of Mourning 2018? It will be November, 22rd.
What is the history and what's the point of this day? And why is it always happens alongside with Thanksgiving?
It all started back in 1970 year. Native Americans (Indians) formed an annual protest against Thanksgiving. This holiday seemed like reminder of genocide and erasure of local culture. Those who participate in protest honor their ancestors and admire contemporaries. Their mission is to teach Americans about the uncertain history of natives struggle for life.
The well-known Thanksgiving story tells about American pilgrim and Native sharing a piece of turkey. So, from traditional point of view relationship between those two groups was mutually beneficial.
But pilgrims did not really find an empty wasteland. According to UAINE (it means United American Indians of New England), all they ever brought to America is sexism, homophobia and racial discrimination.
But from the very first moment of its existing UAINE put up a good fight against propaganda and disinformation. Since 1970 it helped to change the image of American history and solved countless governmental issues. And UAINE organization is growing stronger day by day.
In Germany, the National Day of Mourning has being celebrated in order to commemorate all the fallen in war and bloody regimes. The National Day of Mourning, called Volkstrauertag, became a day, when music, parties, dancing and other entertainment are forbidden.
So when does the National Day of Mourning take place in 2018 calendar?
German National Day of Mourning traditionally takes place two weeks earlier the first day of Advent, on Sundays. In 2018, the National Day of Mourning occurs on November 19. And what does national day of mourning mean for common people? A ceremony takes place on this day in the German Bundestag, in order to commemorate all the fallen. As usual, the President harangues on this ceremony, and after his speech the Bundestag MPs sing a song called "Der gute Kamerad", which means "good comrade", – a military funeral march. Moreover, such ceremonies take place all over the country this day.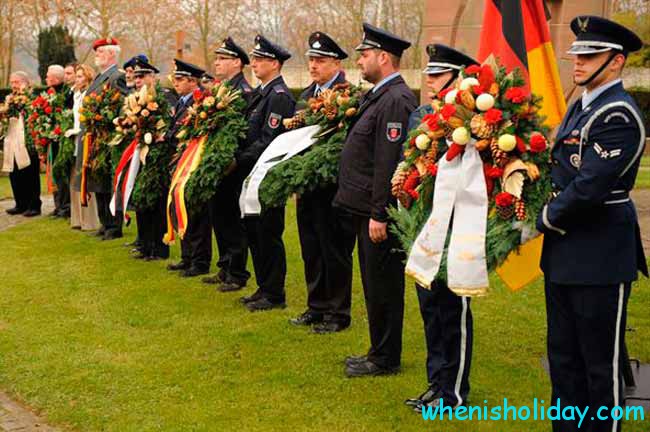 German National Day of Mourning is also known as "Stiller Tag", which means "silent day". In many parts of country musical and dancing entertaining events are officially forbidden. Government agencies close their doors on the Silent Day, but transport doesn't change its schedule.
When is the National Day of Mourning 2018 and how it was found?
It happened in year 1922 with the aim to commemorate the dead in World War I. During the Nazi regime, the day became a national holiday which was celebrated in honor of the heroes of the regime. In order to show dissolution with the nazi regime and the original purpose of this holiday, the Silent Day has being moved and now takes place two weeks earlier the first day of Advent, on Sundays.
Nowadays, the National Day of Mourning is not only commemoration to the dead, but it also shows how awful and terrible was war and how important to keep peace in the world.
When was the National Day of Mourning in Australia and how it is celebrated today?
The National Day of Mourning or simply Day of Mourning, was established in a form of a protest took place on January 26, 1938 by aboriginal of Australia against the colonization carried by Great Britain. The day matched the British Australia day and was a reminder of one and half centuries of harassment and bloody conquers.
Eventually it became a tradition, and the anniversary of the Day of Mourning is still celebrated nowadays in Australia.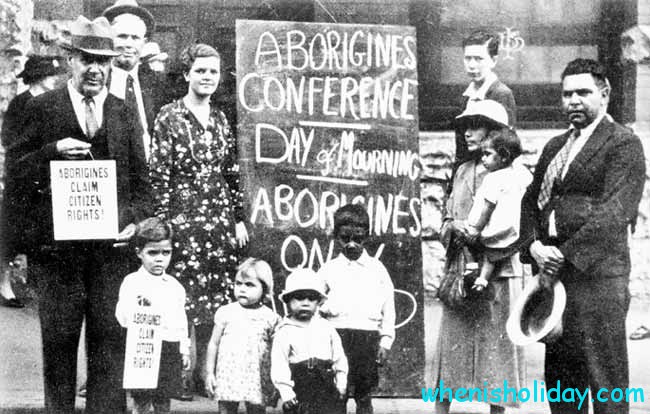 So what is the history of the Australian Day of Mourning?
The protests which gave birth to the Mourning Day was held by the Aborigines Progressive Association. They boycotted the Australia day, British celebrations dedicated to Australia colonization. The Prime Minister of Australia agreed to meet with the leaders of the protest to discuss the demands of the protesters.
What happened on the Day of Mourning protests?
The protests started in Sydney with a march through the streets initiated by the Aboriginal people and their European supporters. Then, about one thousand aboriginal was allowed to attend the Congress which became the most mass civil rights congregation, where the aboriginal claimed their civil rights and represented their manifest.
Nowadays, the anniversary of the events of those days is celebrated in Australia in honor to commemorate heroic protests of the aboriginal. So, once again, what day National Day of Mourning in 2018? Answer is January 26th.
Canadian National Day of Mourning
In Canada, National Day of Mourning takes place on April 28 and called up to remember the victims of workers, killed due to accidents on their working places.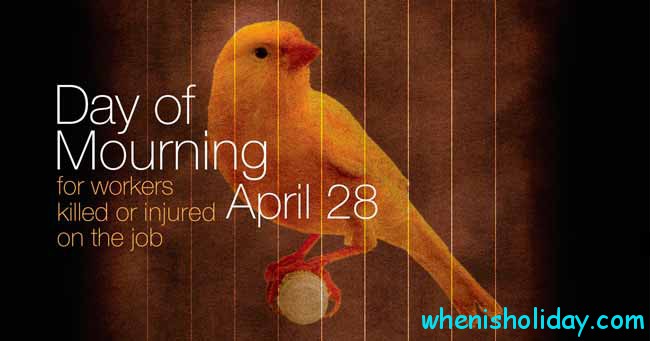 On this day people commemorate and honor injured and dead in accidents on workplaces. Moreover, it's a day when it's important to demonstrate intention to improve safeness on working places and prevention of such tragedies in the future to avoid more senseless casualties.
On this day, April 28, Canada dips the flags on the Parliament Hill and other buildings belong to the government. People traditionally light the candles, wear different signs of memory and attributes, such as black arm bandages, ribbons, etc. and keep silent for a minute, which is called a minute of silence, in order to commemorate the victims of industrial tragedies happened on workplaces.
What was the history of Canadian National Day of Mourning?
National Day of Mourning was established in 1991 by the Parliament of Canada, so April 28 has become the National Day of Mourning. Nowadays, more than 100 countries of the world have adopted the holiday, making this holiday, which is also called Workers Memorial Day, international day of mourning celebrated worldwide. The holiday is expected to resolve problems in area of safety on workplaces and make people to work hard to reduce the number of accidents which take workers' life on their working places.
As well as the National Day of Mourning, a number of monuments were built in honor of injured and killed due to incidents. There are a lot of monuments in Canada which are dedicated to those heroic workers, for example Memorial Quilt, which commemorate thousands of workers who died on their workplaces in young age from 14 to 24. Another example is Labour Congress Monument, Located in Ottawa, Ontario, built on April 28 in year 1987. These and a number of other monuments remind us how important is to improve safety on working places and prevention of fatal accidents in the future.