Civil aviation is a type of transport that carries passengers, luggage, cargo and mail with the help of aircraft. Usually this term is used in aviation to describe the regular operation of air transport enterprises that have a corresponding certificate. That is of common knowledge. However, are you ready to comment the subject "When is International Civil Aviation Day 2022?" just now?
It's a pity but in most cases we don't get the corresponding reply even if we give some minutes for thinking about. And that is perhaps the main reason, why it is necessary to investigate this matter in details.
History
Certainly, taking about "When is International Civil Aviation Day 2022?" we can't but speak about the honored historical background of mentioned memorable date.
It is sad to confess, but we haven't managed to discover, who the direct establisher of this special occasion was. But this happened under the influence of the Canadian government and Administration in 1994. That year on December 7 the people, who are nowadays in this profession, celebrated the 50th anniversary of ICAO (International Civil Aviation Organization) foundation.
All in all, this sphere has a rather rich past indeed.
Believe you or not, but to become one of the most popular forms of passenger transport aviation needed only six decades.
And here is a chain of the records, combined by one single word "first"
the first air passengers appeared in 1908;
the first air cargo was delivered in 1910;
the first charter flight was made in 1911;
the first airline that carried passengers on schedule, was St. Petersburg;
Petersburg – Tampa Airboat Line – was founded in 1914;
the first stewardess became a nurse from the US called Ellen Church, who made her first flight in 1930.
By the way, Charles Furnas, a resident of the city of Daytona (USA, Ohio) became the first air passenger in the world. Wilbur Wright persuaded the close friend to fly on his plane: the flight lasted 29 seconds, overcoming a distance of 600 meters.
The first air passenger who died in a plane crash was Lieutenant Thomas Selfridge of the US Army. By the way, that crashed plane was piloted by Orville Wright.
In 1926 the airline Deutsche Lufthansa was called the oldest of the existing companies that carry passengers. In 1934 it was the first of the world's airlines to transport a millionth passenger.
In 1930 on United Airlines planes passengers were fed by hot meals for the first time in the world.
Meaning
What does National Civil Aviation Day mean? All in all it's only up to you to decide if you want to spend time celebrating this special event. You see, millions people all around the planet have never heard about this memorable holiday existence.
And that is really in vain, because this direction has a great and rather amazing history.
For example, have you ever heard that in 1947, the International Civil Aviation Organization (ICAO) was founded with headquarters in Montreal (Canada)? It was a long time ago, wasn't it?
More than ten years after, in 1958, the research organization Aeronautical Research Laboratories in Australia for the first time created a "black box", which is now installed absolutely on all aircraft and fixes pilot talks and instrument readings.
In 1961, civilian aircraft of the American airline Trans World Airlines (TWA) for the first time in the world began to show movies during the flight.
And, of course, we can't but mention that over the past time, hundreds of different civil aircraft and their modifications have been created.
Definition
Talking about what day National Civil Aviation Day in 2022 is, we can't but given the second definition of this matter. The matter is that this term can also be used to describe other types of commercial activities of an aviation enterprise, such as charter flights, air taxis, non-scheduled and additional flights. Regular (scheduled) flights of air transport form the bulk of commercial operations carried out by the air transport enterprise.
Civil aviation is used to ensure the satisfaction of the needs of citizens and the state. In general such needs include transportation of passengers, baggage, cargo and mail.
All in all contemporary aviation works for the needs of:
agriculture;
oil and gas industry;
the construction industry;
forest and fire protection;
providing medical care to the population;
sanitary measures;
carrying out experimental and research works;
conducting educational, cultural and sports events;
research and rescue expeditions;
other works requiring the use of aircraft.
Civil aviation is based on civilian airfields. The main functional-production unit of civil aviation is the airport, of course.
Traditions
When is Civil Aviation Day in 2022, calendar will surely remind you. So you don't have any reasons for being worried about. The only thing you have to keep in mind that this year December 7 will be on Tuesday.
It is a pity, but there are no any particular traditions of this special occasion celebration. However, if you want to be involved, you can always invent something special just for yourself.
There are people, who prefer to go to the local museums and historical exhibitions in order to listen to interesting lectures or to watch the really terrific objects.
You can also find out the amazing documentaries or read the articles devoted to this theme.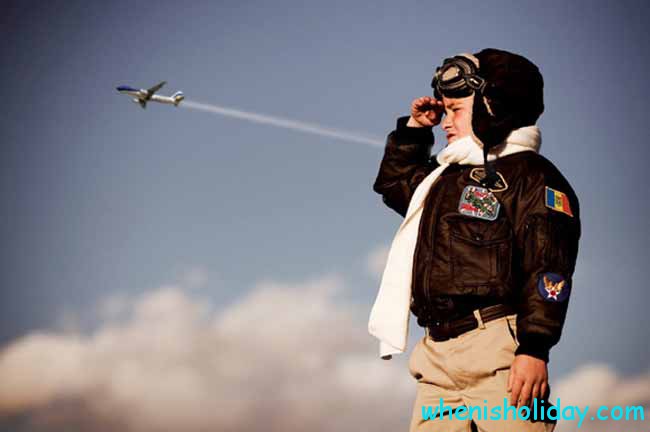 International Civil Aviation Day Facts
So you have already known that the reply to "What is the date of World Civil Aviation Day?" sounds like December 7th.
But we'd like to tell you something indeed interesting about the development and current existence of this direction in the USA.
The main task of US civil aviation is fast, safe and efficient air transportation of passengers or cargo. American airlines have in their composition the whole fleet of aircraft, maintenance departments with a large staff of aircraft mechanics, a large number of flight personnel (pilots and crews), as well as an administrative apparatus.
They work in many countries around the world, and their activities involve, in particular, international relations.
Flight-technical characteristics of aircraft are determined, mainly, by their power plants – engines.
Ever since the time of the working of famous Wright brothers in aviation, many attempts have been made to create a powerful, compact and light engine that would work reliably and economically.
By 1950, the piston engine reached the limit of the possible in flight conditions: it developed a power of 2600 kW at a specific weight (the ratio of the engine weight to the maximum power in kilowatts) equal to 0.61.
In the early 1950s, advanced gas turbine engines were created in the USA. Turbo-prop engines were developed, achieving power of 3700 kW at a specific weight of less than 0.3. As to their size, they were o more powerful piston engines. On modern wide-body aircraft, turbojet engines were used, which, when cruising, develop power of more than 5000 kW.
Nowadays modern passenger turbojet airplanes can develop a speed exceeding 960 km / h in flight (the speed of sound at cruising altitude is about 1060 km / h). They can also fly for a long time at high altitude, which provides significant fuel savings.
We also can't but mention that the possibility of achieving high flight speeds is determined not only by the high characteristics of turbojet engines, but also by the aerodynamic layout of the aircraft, designed and manufactured on the basis of the latest achievements in aerodynamics, materials science and strength.